Southern Baptists Challenged to Learn From Seminary Professors' Racially Insensitive Photo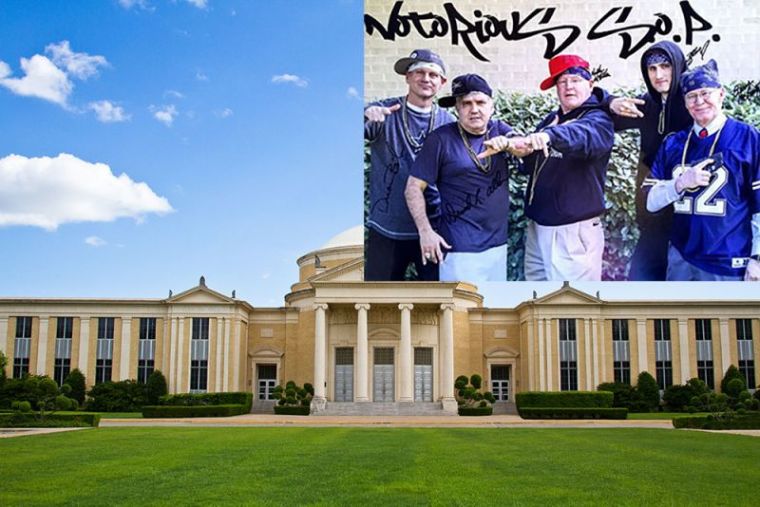 Many Christians are questioning what Southwestern Baptist Theological Seminary is planning to do to ensure growth can come from last week's debacle in which faculty members shared a racially insensitive photograph of themselves posing as gangster rappers in an image titled "Notorious S.O.P."
After Southwestern Baptist Theological Seminary apologized Wednesday for the image, they publicly asked Grammy Award-winning rapper Lecrae to help lead the seminary in a discussion on the matter. Lecrae declined their offer but provided a list of people he felt were better qualified to do so.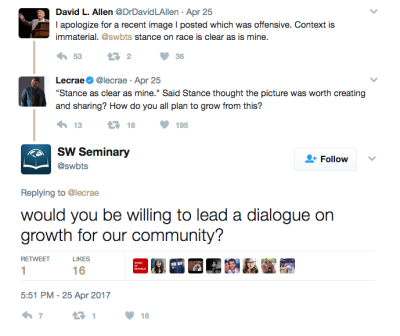 Among those on that list was Adam "A.D." Thomason, a close friend of Lecrae's who is a doctoral candidate finishing his dissertation at Southeastern Baptist Theological Seminary in Wake Forest, North Carolina.
In an interview with The Christian Post on Thursday, Thomason listed tangible ways that the SBC as a whole can grow from its recent photograph debacle where faculty members were outfitted in blue bandanas, crooked caps and gold chains. 
Faculty members seen in the image include: Deron J Biles, a dean emeritus and a professor of Pastoral Ministries; David L. Allen, dean of the School of Preaching; Matthew McKellar, an associate preaching professor; Kyle Walker, the seminary's vice president for Student Services and a professor of preaching; and Barry McCarty, a preaching professor and Chief Parliamentarian for the Southern Baptist Convention who is seen wearing Emmitt Smith's No. 22 Dallas Cowboys jersey holding what resembles a gun. 
In 1995, the Southern Baptist Convention released a document called the "Resolution on Racial Reconciliation on the 150th Anniversary of the Southern Baptist Convention." Thomason, who previously helped LifeWay create a Bible study called "Red Revolution" to address racial issues in the Church, believes that if the SBC revisited their resolution document consistently, racial reconciliation would happen in a major way.
"We have to go back to the 1995 'Resolution on Racial Reconciliation' that nobody is talking about or reading and ask, 'What have we done since then to correct this?'" Thomason told CP. "If this monumental resolution is at the forefront of seminaries and churches at the SBC, that picture doesn't get posted. The first thing we need to do is return to this particular language of acknowledging this and changing this physically and tangibly."
According to the apologetic statement from SWBTS President Paige Patterson, the image posted on social media was intended to be a lighthearted way of honoring Vern Charette, a Native-American member of their staff who raps as a hobby and is leaving the seminary for a pastoral opportunity in Oklahoma.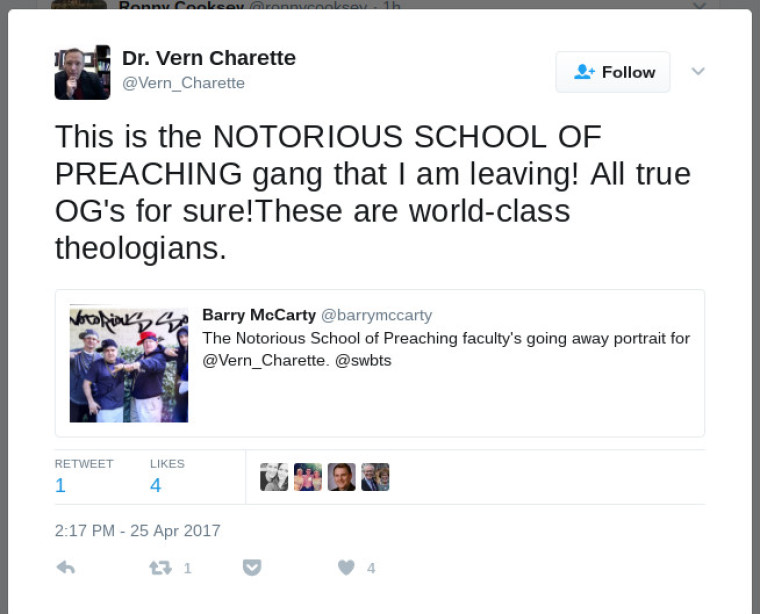 Charette did not return requests for comment from The Christian Post by press time, but David L. Allen, who serves as the dean of the School of Theology, insisted that the only intention of the faculty in posing for the photograph was to honor their colleague.
"This is a going-away picture we gave to one of our faculty members today at lunch, Dr. Charette, who is himself an excellent rapper," Allen tweeted on Tuesday.
The image has since been removed from social media and replaced with apologies from the seminary's faculty. Yet, that image has lingered in the minds of many who've spoken out on social media against what Thomason calls a representation of "a theological, historical and anthropological disconnect" from black culture.
In an op-ed piece for The Washington Post titled, "Why a racially insensitive photo of Southern Baptist seminary professors matters," Reformed African American Network President Jemar Tisby explained why the photograph was deemed offensive.
"Putting on clothes typically associated with racial and ethnic minorities communicates that a person's culture has value only as entertainment," wrote Tisby, who Lecrae also recommended the SWBTS discuss the matter with. "That's why you can't dismiss this photo as 'just a joke.' It harks back to a history of dehumanization."
In the SBC's 1995 resolution, the network of Baptist leaders acknowledged a strained relationship with African-Americans stemming from their defense and involvement in the institution of slavery and the resulting racism that followed.
"Be it further resolved, that we lament and repudiate historic acts of evil such as slavery from which we continue to reap a bitter harvest, and we recognize that the racism which yet plagues our culture today is inextricably tied to the past," the resolution states. "Be it further resolved, that we apologize to all African-Americans for condoning and/or perpetuating individual and systemic racism in our lifetime; and we genuinely repent of racism of which we have been guilty, whether consciously (Psalm 19:13) or unconsciously (Leviticus 4:27) ..."
For Thomason, who's working on a dissertation tentatively titled, "A Holistic Imago Dei-Inner Man and Outer Man: Kingdom and Earthly Implications Before and After The 1995 Resolution of The SBC On Racial Reconciliation," acknowledging the past is imperative for racial reconciliation.
"When you see this picture posted, honestly I don't even get offended. I say that's why we need to be knowledgeable of our past, because our past has a lingering subconcious residue on us in the present," he told CP. "If you don't address the legacy of the past you find yourself doing something in the present and saying, 'You know what, that wasn't my intention.'"
Thomason believes the SBC's resolution that was created over 20 years ago serves as an example of how Southern Baptists wanted to use their past to grow.
"One of the key things that I think we miss is that when they did this resolution they said, 'We're no longer going to say that was then, this is now," Thomason told CP. "We're going to stand as representatives of our forebearers of the past, repent and make tangible steps forward."
More than just reading through the resolution, Thomason suggests consistently revisiting it to create steps that eradicate racism, such as increasing the number of people of color on staff at seminaries under the SBC umbrella.
"They need to put tangible, aggressive timetables to put people of color across genders who are qualified to teach," Thomason told CP. "If they aren't qualified, get them qualified."
Thomason further added that the curriculum at Southern Baptist seminaries needs to be changed to include more people of color, which could be an actionable resolution to eradicate racism within the institution.
"All the curriculum is from a European perspective. The Frederick Douglas, Dr. Kings, Harriet Tubmans or Ida B Wells — those are called special projects," he said. "You won't see any of those in the curriculum. The books that are offered to us ... this is supposed to be the highest in the doctoral program and there are no books about people of color that contributed to Christianity."
The Christian Post's calls to the SWBTS were not returned by press time, but the seminary's president did acknowledge the need to be challenged on the matter of racial sensitivity in an official statement.
"Sometimes, Anglo-Americans do not recognize the degree that racism has crept into our lives. Such incidents are tragic but helpful to me in refocusing on the attempt to flush from my own system any remaining nuances of the racist past of our own country," Patterson wrote. "Just as important, my own sensitivity to the corporate and individual hurts of a people group abused by generations of oppressors needs to be constantly challenged."