Southern Baptists Set to Make History at Annual Meeting Tuesday
America's largest Protestant denomination, which remained predominantly white and endorsed racial segregation for over a century, is posed to elect its first African-American president, a pastor from Louisiana, at its two-day annual meeting that begins Tuesday.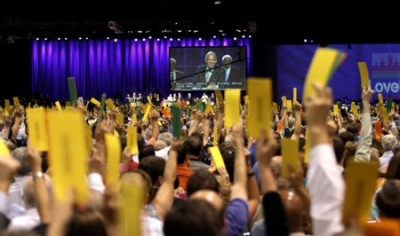 Even just a day before the Southern Baptist Convention's meeting in New Orleans, La., the Rev. Fred Luter Jr. remained the only candidate for the office of the denomination's president.
"It's going to be historical because there's never been an African-American president in the Southern Baptist Convention, so it's going to be a historical day," WDSU News quoted Pastor Luter of Franklin Avenue Baptist Church in New Orleans as saying. "I am still the only announced candidate in this convention which is amazing to me."
It was amazing, the 55-year-old black pastor explained, "to have a descendant of former slaves to be president of this convention… It's making world news."
The convention has reached out to black, Hispanic and Asian people in recent years. Over the last two decades, the percentage of non-Anglo SBC churches has grown from five percent to 20 percent.
A LifeWay survey last month showed that 86 percent of SBC pastors say the likely historic shift in the leadership would be good for the denomination. Of the nearly 1,000 pastors who responded, 61 percent agreed it would be positive, 10 percent disagreed, but 29 percent didn't have an opinion. Of those who had an opinion, 50 percent strongly agreed and 36 percent somewhat agreed.
Albert Mohler Jr., president of the Southern Baptist Theological Seminary in Louisville, Ky., sees the expected election of Luter as a significant milestone in becoming more inclusive. "It's a shift from institutionalized racism and resistance to the civil rights movement among the vast majority of its members to the eager embrace of America as it is becoming," The New York Times quoted him as saying.
Luter has said while he would focus on evangelism, service to believers and disaster relief as president, he would also make efforts to appoint more members from minorities on the governing boards.
Luter, who became the first African-American vice president of the denomination last June, has had a long and turbulent road to rise in the ranks.
He had a near-fatal motorcycle accident in 1977 when he was 21, and he says the incident guided him in the right direction toward God.
Luter helped grow the dying congregation of the Franklin Avenue Baptist Church into one of the largest churches in the state in the mid-1980s. And when Hurricane Katrina struck in 2005, his church was destroyed and lost its entire 7,000-member congregation, most of whom fled the city. Three years later, however, the church reopened its doors after help from the entire neighborhood, and now draws 5,000 people for church services.
The thousands of delegates at the two-day meeting are also expected to vote on a recent recommendation by an SBC task force that the denomination introduce an "informal" optional title, "Great Commission Baptists." The name "Southern" is seen as a hindrance by some, especially African-American church leaders, in reaching out to others.
LifeWay Research recently released the results of a random survey of more than 1,000 SBC pastors held in April and May 2012, showing that 54 percent say they will not use the non-legal moniker, although more than 35 percent had not discussed it.
According to Baptist Press, African-American pastors are adding insight on how well the reference will improve the convention's cross-cultural attraction. "I think it will be helpful, very helpful in expanding our capacity as Kingdom citizens to fulfill our biblical mandate issued by the Master," K. Marshall Williams, chairman of the Southern Baptist African American Advisory Council, was quoted as saying. "It's a clear declaration of who we are and what we're about, namely the exaltation of the Almighty and the edification and evangelization of all nations."
The SBC became a separate denomination in 1845 in Georgia, following a regional split with northern Baptists over the issues of slavery. And after the American Civil War, most black Baptists in the South separated from white churches and set up their own congregations.
Rev. Fred Luter, Jr. 2011 1st VP of Southern Baptist Convention