'Spider-Man' Movie News: Tom Holland's Solo Film Version of the Character to Be Titled 'Spider-Man: Homecoming'
Rumors and speculations that Tom Holland's "Spider-Man" movie to be titled "Spider-Man: Homecoming" didn't just remain as such after Sony confirmed that the movie will, indeed, be titled as what rumors and speculations claimed it would be. The confirmation was made at Sony's presentation at the CinemaCon by no less than Sony motion picture chairman Tom Rothman.
In addition to Rothman's explanation that the title has high school feel to it, Holland added that the chosen title for the movie is apt as his Peter Parker character is trying to find his way home in the figurative sense.
"Spider-Man: Homecoming" is the hero's official entry to the expanding Marvel universe via a solo film, which will be directed by Jon Watts. Other cast members of the film include Marissa Tomei and Zendaya as Aunt May and Michelle, respectively.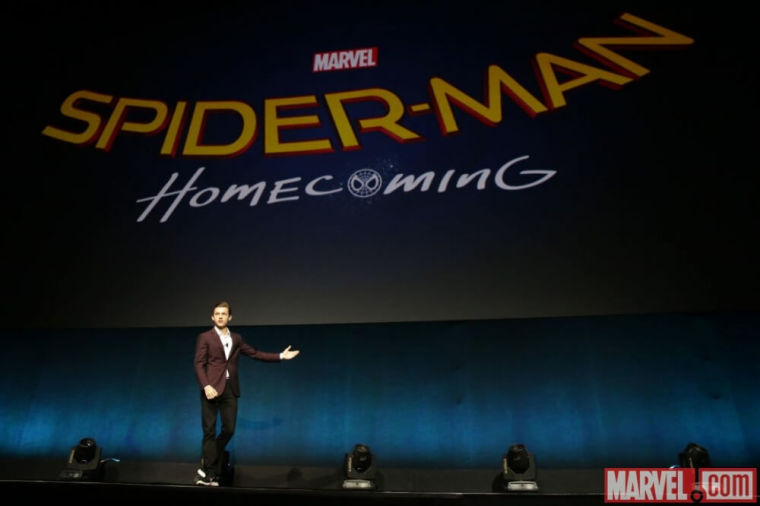 Now that "Spider-Man: Homecoming" is taking shape, fans can only speculate how its story will pan out. According to some sources, fans can expect seeing The Vulture from Sinister Six in the movie, although he won't be playing the main antagonist. However, the latest rumor is that Michael Keaton may make the big switch from DC to Marvel as he is said to be in talks with Marvel and Sony to play the main villain in the movie.

Some decades ago, Keaton suited up as the Dark Knight via the 1989 Tim Burton hit "Batman," which catapulted his career to greater heights. If the rumored talks in the negotiation table turn out hassle-free, it will usher the actor back to the world of superheroes, although he will not necessarily return as a hero.
Meanwhile, apart from the confirmation of the title, Sony also released the official logo of the upcoming "Spider-Man: Homecoming." Deadline noted the striking resemblance of the logo to original logo of the character in its comic-book incarnation. With this, along with the other reasons stated by Rothman and Holland, "Spider-Man: Homecoming" is, indeed, an apt title for the movie as it goes back to its roots, even just with the logo alone.