'SpongeBob SquarePants': Steve Buscemi and Joe Pantoliano Guest Star in Upcoming Episode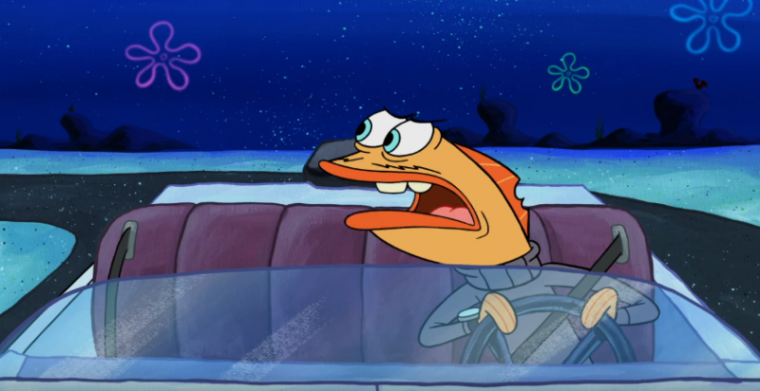 In an upcoming episode of "SpongeBob SquarePants," fans of "Boardwalk Empire" and "The Sopranos" will recognize a couple of familiar voices.
Steve Buscemi and Joe Pantoliano guest star in the upcoming installment, "The Getaway," in which they play the roles of a getaway driver named Dorsal Dan and escaped convict Sticky Fins, respectively.
In a preview of the "SpongeBob SquarePants" episode, the adorable yellow critter mistakes Sticky Fins for his driving instructor, which puts him in serious danger and trouble.
Pantoliano's character escapes prison and was supposed to meet up with Dorsal Dan. However, Sticky Fins thought that the getaway car was that of SpongeBob's.
His real driving instructor Mrs. Puff decides to go after SpongeBob, to her surprise. She ends up boarding the car driven by Buscemi's character, who arrived a few seconds late.
The synopsis for the "SpongeBob SquarePants" episode also teases that Sticky Fins will actually be the one who learns a lesson during his road trip with SpongeBob.
Based on how crazy SpongeBob made Mrs. Puff during their driving lessons in over the years, the criminal is about to pay for the crime of not doing the time.
"SpongeBob SquarePants: The Getaway" will air on Saturday, June 10 at 10 a.m. ET on Nickelodeon. The second installment is titled "Lost and Found," which will see Mr. Krabs task SpongeBob to search for a missing toy.
In related news, it was announced that the "SpongeBob SquarePants" Broadway musical is coming to The Palace Theater in New York this fall, from Nov. 6 to Dec. 4 to be exact.
The cast includes Ethan Slater as SpongeBob, Gavin Lee as Squidward, Lilli Cooper as Sandy Cheeks and Danny Skinner as Patrick. The rest of the ensemble will be revealed at a later date.
"We could not be more thrilled to bring Nickelodeon's iconic SpongeBob SquarePants to the theater in an original musical conceived specifically for Broadway," Nickelodeon Group President Cyma Zarghami said in the press release.
"We are also incredibly honored to be in such a gorgeous house as The Palace, where audiences will be immersed in the fun and surprising world of Bikini Bottom," she went on to say.