'Star Trek: Discovery' Producer Says 'God' Not Banned on Set
Sponsored by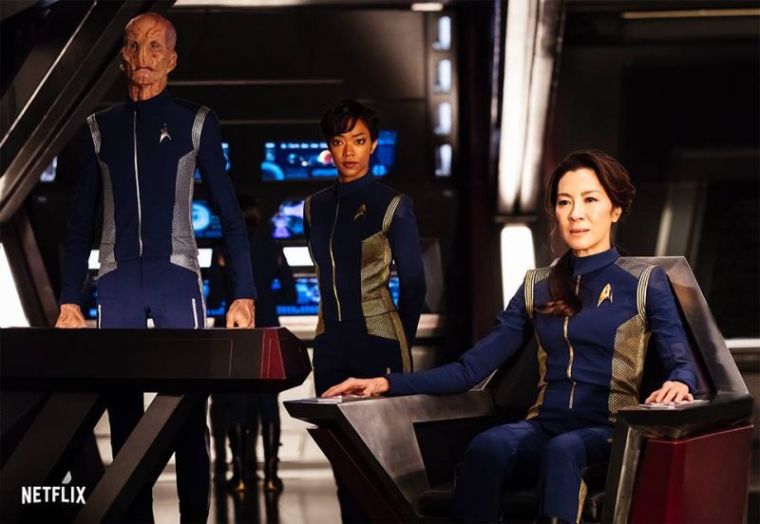 After news circulated that "Star Trek: Discovery" creators did not want the actors to say the word "God," the series producer set the record straight.
In a recent cover story, Entertainment Weekly reported that the series star, Jason Isaacs (Captain Lorca), implied that any mention of God was out of bounds on the CBS TV series.
He told the publication that he ad-libbed the phrase "for God's sakes" while on set and the episode's writer, Kirsten Beyer, corrected him. He described that he was told that the show's creator, Gene Roddenberry, had a vision for "Star Trek" to be completely godless and a strictly science-driven telling during the 23rd-century. Isaacs even said he was told that he could say a swear word "before" he'd be allowed to say "God" on the new show.
However, on Wednesday, the Nerdist caught up with Executive Producer Gretchen Berg to clarify Isaacs' statement. Berg said the initial story is incorrect and noted that the word "God" has been said in the show "quite a bit" so far.
Beyer's objection reportedly had to do with the fact that humans wouldn't say "God" in the future because Roddenberry's idea of a futuristic Earth was religion free. That vision would be quite different from the 1989 Star Trek V film which featured an alien that claimed to be God. A famous line from that film is actually when Captain Kirk says, "What does God need with a starship?"
"In our room, it's something we discuss a lot," Berg continued, "I don't necessarily agree with [Beyer's] quote. On a show about diversity and with different points of view, I feel like you have to accept that some people believe in God, some people want to worship a potato, and some people don't want to believe in anything. I think there is room for that on Star Trek."
The publication also shared quotes that will reportedly be said in the new CBS series.
"My god, what is this, the dark ages?" – Bones
"My god, Bones. What have I done?" – Captain Kirk
"Star Trek: Discovery" will run its first episode Sunday, September 24.
Follow Jeannie Law on Twitter:
@jlawcp