Stephen Curry Talks About His Christian Faith in MVP Acceptance Speech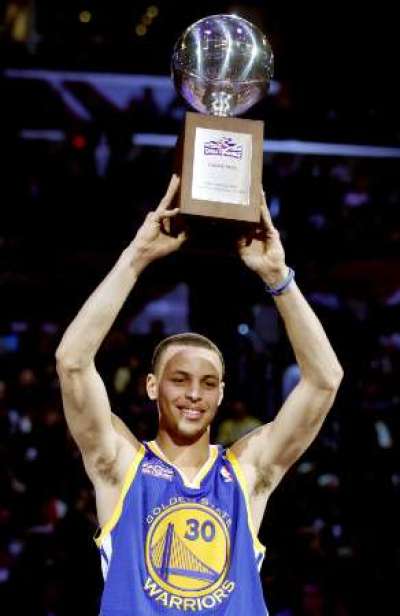 Stephen Curry, the Christian Golden State Warriors point guard, was officially named MVP of the 2014-2015 NBA season and made sure that his faith was at the forefront of his acceptance speech.
Curry, 27, received the honor after getting 100 of 130 first place votes and earning 1,198 points from a panel of 129 writers, broadcasters and fans who voted on the NBA's official website. After helping his top-seed Warriors dominate the Western Conference, the guard made sure to highlight his faith when accepting the MVP honor Monday.
He spoke about his blessings, despite some of the struggles he was forced to endure.
"There were obviously good times and bad times. Times I wanted to shut it down," Curry said in his speech, which is featured on the official NBA website. "It just made me feel like how blessed and thankful I am to be in this position."
Curry went on to thank his wife, mother Sonya and father Dell Curry, who happens to be a retired NBA player.
"Mom you are our spiritual guidance and our disciplinarian at times when pops was away. ... The way that you raised us, not taking any slack," Curry said in his speech. "We knew sports was important to us and our family but there are priorities in life.Obviously faith is foremost, how we did in school is important. If we didn't handle that business then there were no privileges."
While the player shared notable memories with his teammates and Warriors staff, he also made it clear that his faith was one of the key reasons for his success.
"Sometimes people make it seem like you have to have certain prerequisites or a crazy life story in order to be successful in this world. But the truth is you really don't," Curry said. "It doesn't matter where you come from, what you have or don't have, what you lack or what you have too much of, but all you need to have is faith in God, an undying passion for what you do and what you choose to do in this life, and a relentless drive and the will to do whatever it takes to be successful in whatever you put your mind to."
Earlier this year, he took time out to reflect on his Christian faith when speaking to Christian sports apparel brand, Active Faith. According to the Christian athlete, his relationship with Jesus Christ started around middle school.
"My parents had us in church every Sunday, every Wednesday. It was more of a tradition at that point; I didn't have a personal relationship with the Lord until I went to the altar call one Sunday and the youth pastor told us to make a decision for ourselves," Curry told Active Faith. "The youth pastor told us we had to make a decision for ourselves, we couldn't rely on our parents. It had to be a decision on our own, and that's when I made it."