Stephen Curry's New Basketball Sneaker Features Bible Verse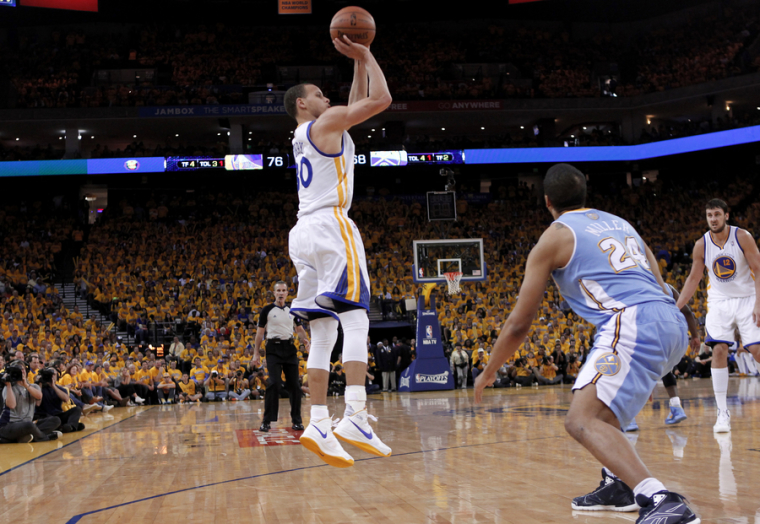 Stephen Curry, the Christian Golden State Warriors point guard, recently spoke about how his faith has enabled him to release the new Curry One Under Armour signature shoe.
Curry, 26, used to have a deal with Nike but chose to connect with Under Armour so that he could blend his faith with his signature shoe. The Curry One is slated for a Feb. 13 release, and Curry has been promoting the sneaker with the tagline "charged by belief."
In a recent question and answer session for the Under Armour shoe, the Christian NBA All-Star with a jersey that is only being outsold by that of the NBA's Lebron James, spoke about the meaning of the tagline.
"Charged by belief has a lot of meaning," Curry said, according to Rapzilla reports. "It matches with the Under Armour story, being an underdog and having to build from the ground up, and the belief [Under Armour CEO] Kevin Plank had in his vision. It's also about my faith and the belief in my game despite what other people might say."
During the Q&A session, Curry spoke in detail about his faith after one member of the media questioned him about the meaning of the 4:13 that he made sure was placed at the bottom of some of the sneakers' tongues. Inside the tongue reads, "I can do all things," which comes from Philippians 4:13 which states,"I can do all things through Christ who strengthens me (KJV)."
Curry spoke about his idea to include the phrase in his first signature shoe for Under Armour.
"It represents a Bible verse I wear on my shoe," Curry told the media, according to Rapzilla reports. "Philippians 4:13. It says 'I can do all things through Christ who strengthens me.' It's also my mantra, how I get up for games and why I play the way I do."
Lace tips on Curry's signature shoe also feature some of his other mantras such as "LEAD" and "MMTB" which stands for "Make My Team Better."
"It's part of my DNA ... who I am," Curry said. "To have that come out in my vision for my first shoe is special."
He described the importance of putting out this particular shoe with its inspirational messages.
"You don't want to scare people away with this idea that I'm perfect or that you have to be perfect to find that calling," Curry said. "It means a lot to be able to spread that message, whether that's what you believe or whether it helps you find whatever it is that motivates you to do all things. Every time you put on the shoe, it's a good reminder of what is possible."
Two years ago, Curry wrote a column for the Fellowship of Christian Athletes website, where he spoke about his love for pointing people towards Jesus Christ.
"I know I have a place in Heaven waiting for me because of Him, and that's something no earthly prize or trophy could ever top," Curry wrote.