Suicide Bomber Blows Himself Up Outside Evangelical Church in Nigeria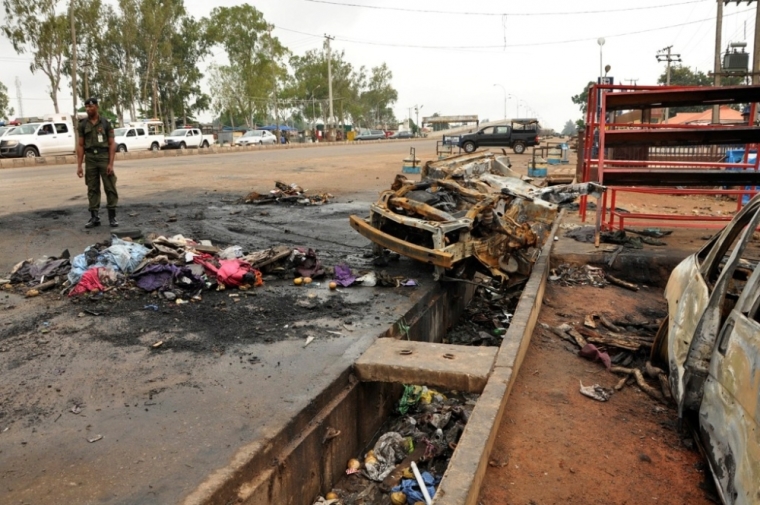 A suicide bomber blew himself up just outside of an evangelical church in Nigeria Thursday morning.
The blast injured several people at a sanctuary located in the Nigerian city of Gombe, according to residents and a rescue worker.
"There was an explosion outside the ECWA church this morning. A suicide bomber who was restrained from getting into the church blew himself up," said Abubakar Yakubu, the head of the Nigeria Red Cross in Gombe. "Luckily no one was killed but some people were mildly injured."
An eyewitness to the attack said the bomber arrived during the church service and refused to park his motorcycle outside a security barrier set up by church volunteers.
"He insisted on riding through the barrier," said Dahiru Badamasi who witnessed the attack first hand.
The bomber had explosives strapped to his body and they were detonated while he had a heated argument with church volunteers who set up the barricade. The barrier was build to prevent any attacks by the Islamic militant group Boko Haram, according to another eyewitness Samson Luka.
"Some people nearby were injured from the blast but none of the injuries are life-threatening," he said.
Residents also commented on the attack.
"The moment I heard the huge blast my mind told me it was a bomb and I dashed out of my house only to learn it was from a suicide bomber outside the church," said resident Hauwa Ahmed.
Authorities have not commented on the church attack.
This suicide bombing was the second to occur in the area for the week as a woman blew herself up outside the Bolari military barracks in Gombe. This attack happened just hours before the church bombing.
The woman reportedly ignored orders from soldiers on guard at the gate of the barracks to stop. She continued toward them and they gunned her down.
"The soldiers opened fire on the woman and the suicide belt concealed under her hijab exploded, killing her," said resident Adamu Kuntau.
The barracks reinforced its security last June after a similar attack occurred with a female suicide bomber who blew herself up when she was stopped outside the barracks. That attack killed one soldier and injured another.