Sydney Hostage Siege Over as Special Forces Storm Cafe; Gunman Reportedly Killed in Shootout
Sydney Hostage Siege Over as Special Forces Storm Cafe; Gunman Reportedly Killed in Shootout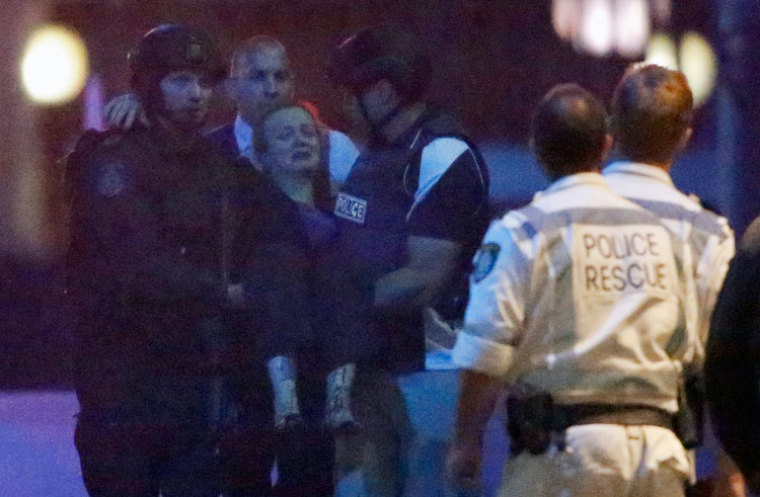 Update 12/15, 12:27 PM ET: The gunman has reportedly been killed during the shootout with Sydney police, national security source in the United States told CNN.
Gunshots were fired in the confrontation between the Sydney police force and the suspected gunman holding at least 15 people hostage in a cafe Monday, with multiple deaths and injuries. The suspected gunman has been identified as an Iranian sex offender and murder suspect.
Australian state broadcaster ABC reported that at least two people were killed and three seriously injured during the showdown. The condition of the suspected gunman Man Haron Monis is unknown.
Earlier today, BBC News reported that Monis is on bail and facing a number of charges.
It is not clear why he decided to attack the Sydney cafe, although a black Islamic flag was seen displayed at the cafe window.
Five of the hostages managed to escape earlier on Monday.
Monis is known for sending hate mail to families of Australian soldiers killed oversees, authorities have said.
The man, 49, has faced charges in connection with the murder of his ex-wife, a case which is still pending. He was also charged with the sexual assault of a woman in New South Wales earlier this year.
Prime Minister Tony Abbott said that it is "profoundly shocking" that people are being "held hostage by an armed person claiming political motivation."
Earlier in the day, BBC's Wendy Frew reported from the scene:
"The atmosphere in Martin Place itself was surreal. Office workers who had been evacuated from their buildings, construction workers from building sites and tourists packed the pedestrian plaza one block away from the Lindt coffee shop."
Dr. Ibrahim Abu Mohammed, Grand Mufti of Australia, also spoke out against the attack, and said that Muslims "condemn this criminal act unequivocally and reiterate that such actions are denounced in part and in whole in Islam."
Despite the Islamic flag, it is not yet known what connections, if any, Monis has with terror elements operating within Australia.
In September, over 800 police officers arrested 15 people in Sydney and Brisbane allegedly connected to terror group ISIS, which has captured a number of cities across Iraq and Syria since the summer. The suspects were believed to have been planning on kidnapping and beheading people on camera. Arrested among them was also Mohammad Ali Baryalei, identified as Australia's most senior Islamic State member.