Tamera Mowry-Housley Blasts Critics Who Claim Her White Husband Can't Cook Collard Greens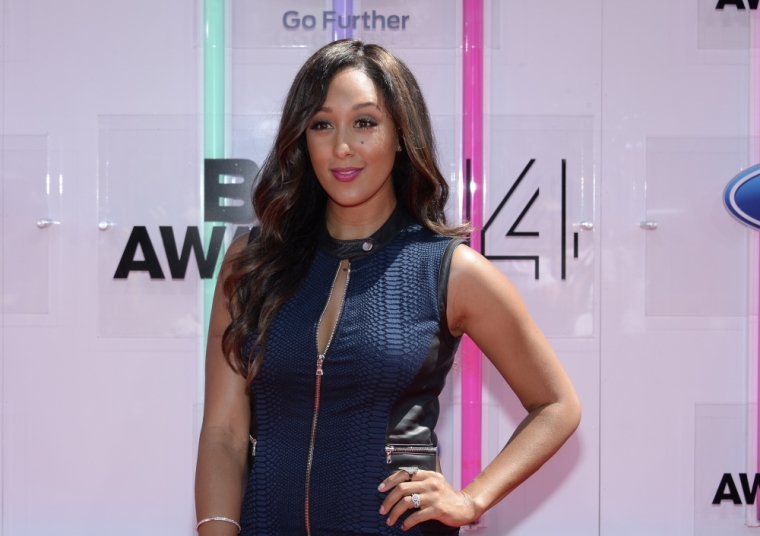 Tamera Mowry-Housley is again having to respond to criticisms of her marriage to Fox News correspondent Adam Housley, who is white, after people blasted her husband for cooking collard greens on Thanksgiving Day. 
During a segment on the daytime talk show "The Real" on Tuesday, Mowry-Housley and her co-hosts Adrienne Houghton, Jeannie Mai and Loni Love each took a moment to address negative comments and critiques they had received online.
In response to Mowry-Housley's Instagram post of collard greens that her husband was cooking on Thanksgiving, her online critics lashed out at the thought of a white man making a dish that's a staple in many African-American households.
After reading a YouTube comment from a person who identifies as "mscourt" who surmised that Mowry-Housley "must eat like a white person," because "ain't no way Adam is making some good collard greens," the actress defended her husband and herself against such racial stereotyping.
"Why you gotta bring race into this? She missed the whole point," Mowry-Housley said on the Tuesday's show. "OK, now I gotta get factual. Collard greens originally came from Greece. They became a southern delicacy in the States."
Mowry-Housley revealed that her husband's grandmother is from the South and he grew up enjoying collard greens.
"What they don't know is Adam's grandma is from the South and she passed away before she could spread that recipe to him. My husband loves collard greens and my mom saw that and said, 'You know what, why don't I pass down my traditional recipe to you,'" she explained.
"Guys, with there being so much racial tension in this world right now, why don't we start with ourselves? It doesn't always have to be about race!"
Mowry-Housley married her husband in 2011. Even though Mowry-Housley is bi-racial, she has been the target of heinous comments from people who oppose her marriage to a white man.
"I've never experienced so much hate ever in my life. I get called, 'white man's (expletive).' The new one, 'back in the day, you cost $300 but now you're giving it to 'em for free,'" Mowry-Housely tearfully said on the OWN program "Where Are They Now" in 2014. "Stuff that, me as a person, could never even fathom. I can't even think of these words."
Mowry-Housley is the daughter of a black woman and white man. She and her twin sister, Tia Mowry-Hardrict, didn't view color as an issue when it came to dating. However, Mowry-Hardrict married a black actor named Cory Hardrict while Mowry-Housley's decision has led to people stereotyping her and her husband in unflattering ways.
"I grew up seeing a family. I didn't grow up seeing, 'A blank with a white person!' So it's very shocking to go through this,"she said on the program. "This was the big one. They say, 'Oh Tia's a true black woman because she married a black man.' Oh? I'm lesser of a black person because I married white?"
Mowry-Housely stood up for her husband during her appearance on OWN, saying, "I love my husband so much. I love my family. I love our dynamic. I'm proud to be in the relationship I am in because it's based on love. Pure love."