Tennessee Lawmaker: ISIS Should Be Allowed to Recruit at Colleges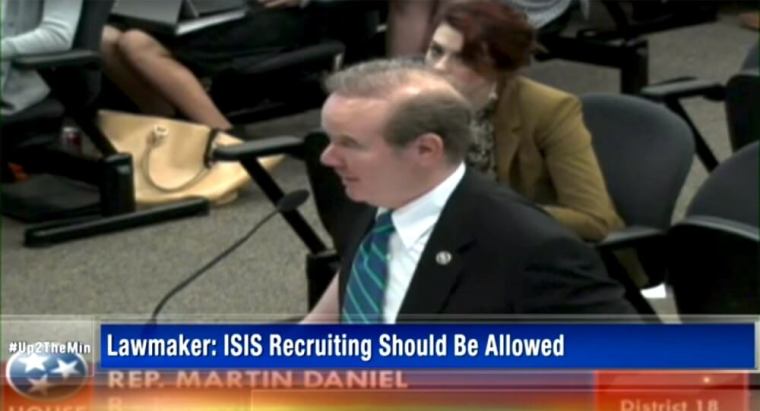 During a debate on his bill calling for more freedom of speech at public colleges and universities in Tennessee, Rep. Martin Daniel, a Republican from Knoxville, was asked if the Islamic State terror group should be allowed to recruit, and he said, "Yes … so long as it doesn't disrupt the proceedings on that campus."
Democratic Rep. John Deberry of Memphis asked Daniel, who introduced Tennessee Student Free Speech Protection Act, if a terror group like Islamic State, also known as ISIS or ISIL, would be allowed to stand in the middle of campus and recruit?
"Yes," Daniel responded, according to The Tennessean. "So long as it doesn't disrupt the proceedings on that campus. Yes sir. They can recruit people for any other organization or any other cause. I think it's just part of being exposed to differing viewpoints."
Referring to a requirement at Middle Tennessee State University, Daniel earlier said it forces students seeking to hand out literature on the campus to fill out an application five days in advance. He also mentioned a Tennessee State University policy that prohibits disruption in any form on its campus.
About his bill, Daniel earlier told The College Fix, "The best kind of educational environment is one where there's a lot of controversy and conversation about various issues, and we encourage students to speak up. We want our students to be prepared for the real world, and those classes of speech that might be considered micro-aggressions just happen in the real world."
Daniel worked with the Foundation for Individual Rights in Education in drafting the legislation, and also relied upon the Chicago Principles, a statement produced by the Committee on Freedom of Expression at the University of Chicago last year, according to Fox News.
Daniel later sought to clarify in a statement that he fundamentally disagrees with "ISIS's philosophy and I unequivocally condemn their abhorrent, cruel, inhuman acts of terror and violence."
He continued, "That said, the unavoidable fact is that the First Amendment guarantees us the right to express any opinion, including opinions that most of us find repugnant and fundamentally wrong, so long as they don't cause an imminent risk of harm."
There's a big difference between saying that someone has a right to speak, and agreeing or disagreeing with the content of that speech, he added. "Frankly, simple recruitment efforts by any organization, standing alone, might be protected by the First Amendment. However, offering material support, including one's service, to a terrorist organization is forbidden by the United States Patriot Act of 2001. Joining ISIS (offering one's service to a terrorist organization) is illegal, on college campuses or anywhere else in the United States."
Daniel also said although free speech should generally be protected, "if such speech should cross the line so that it becomes an imminent threat to someone, including our country, that would NOT be protected speech."
"I am sure that each of us holds many opinions that someone, somewhere, would find wrong or offensive. My point is that if we weaken the First Amendment by making its protection selective, based on what is currently viewed as evil or inappropriate, we are weakening its ability to protect us all," he added.
He said opponents of his bill have brought up "an unrelated hypothetical situation of ISIS recruiting on campus" to "intentionally distracted from the point of my bill, which is to guarantee all students the right to express themselves on college campuses, whether their opinions are considered open-minded, closed-minded, religious, non-religious, anti-religious, brilliant, stupid, progressive, or offensive."