Tesla Model 3 to begin production in 2 years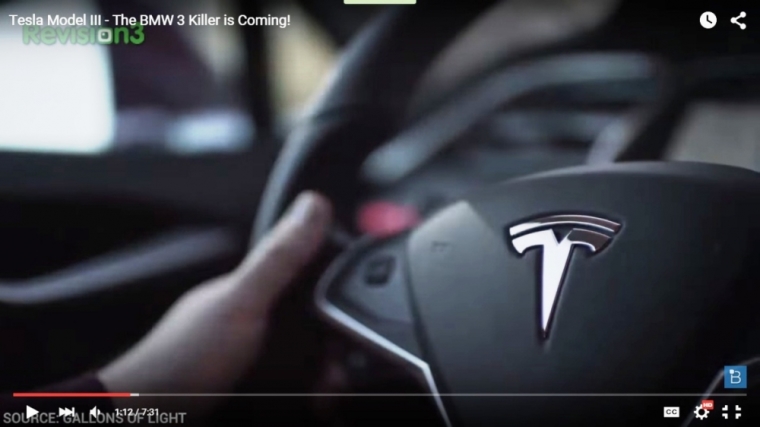 The mass-market Tesla Model 3 sedan's production is set to begin in two years, Tesla Motors CEO Elon Musk announced last week.
The Tesla Model 3, which will come with a $35,000 price tag, is expected to help Tesla transition into the mainstream car manufacturing business, which will give the company continuous cash flow. As of now, the details on the upcoming sedan are still under wraps, according to Uncover California.
Reports about the 2017 launching of the Model 3 came on the heels of the unveiling of the Tesla Model X crossover. Now, the company is going for a smaller and more affordable model. The Model 3 will be about the same size as the BMW 3 and will have an electric range of about 200 miles, Automotive News reports.
Tesla has included the Model 3 sedan in its 500,000 car sales target for the year 2025. It is interesting to note that for the year 2015, the electric car company has sold only around 55,000 units, the report details.
The electric car market is expected to encounter more competition in the next few years. Based on Tesla's present stock valuation, it is possible that the company will be able to hit its 500,000 sales target in the year 2025.
The electric carmaker seems to have its hands full with new projects. Tesla is also planning to use the Model 3 platform to create a crossover variant. This car, which will be about the same size as the BMW X3, is expected to be rolled out either in 2018 or in 2019.
In addition, Tesla is set to release another sports car in the form of an updated Roadster built on the Model 3 platform. Production will reportedly commence in 2019. However, this project may be pushed back to the next decade because it will not help the company reach its sales goal for 2025.
The Tesla Model 3 sedan prototype is set to be unveiled in March and the production will start in the second half of 2017. The company is also expected to increase deliveries by 2018.