The Army of God: A Great Awakening Coming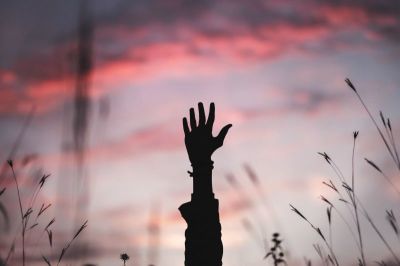 There is hope. We will rise up. Great awakening is coming. Don't think it, know it. We see great struggle, brokenness, and strife. But we don't look upon the world, we look upon Jesus Christ, our glorious risen savior. Therefore we have great hope. Claim this hope as your own. Let it fire your spirit, and blaze to life the pits of your soul, and consume your heart, and fill your muscles with strength.
There is a roaring in the cities. There is a sinister revival taking place across the nations. The black onyx is rising. And it feels as if we are swimming in the flood waters. If we look at this dark river, spreading like locusts, exploding outward like clouds of mosquitoes to destroy all that is good in the world then we feel hopeless. If we look at that, and when we look at that, and stare at it, the strength drains from our muscles. The blood drains from our appendages. And our faces turn grey and white.
So we must not look upon the world with an endless gaze, we must look upon Jesus with an endless gaze. We must practice the presence of God. Because there is so much struggle and strife and polarization around us. We must constantly keep our mind stayed on Him.
As it says in the word: "You will keep in perfect peace all who trust in you, all whose thoughts are fixed on you! Trust in the Lord always, for the Lord God is the eternal Rock." -Isaiah 26:3-4 New Living Translation (NLT)
Fix your thoughts on Jesus. Listen to me, there is great sin around you everywhere. Sin threatens from every angle. And we must be clean of it. If we are soiled in the sin of the world when Jesus returns, then we won't share in eternal life with Him. So we must live a radically different lifestyle, a lifestyle of true holiness.
Sin is everywhere. It's as if we are in pure robes, walking across a muddy field. And we must be ever so careful to avoid being soiled by the world. We have our defenses up, and those defenses are fortified and strengthened by the Holy Spirit. We are able to resist temptations of all kinds in the power of Christ.
And we are being sanctified in so many ways, so that our minds become foreign to the world. And the things of the world no longer interest us. And thus temptation comes, and finds an environment foreign to it's nature. And it cannot prosper. Our minds, hearts, souls, and all our strength is fortified by God, as we seek Him and study His word.
This takes practice, and a daily lifestyle of repentance. And of peace, and love, and longsuffering. This is not easy. It's not supposed to be easy. If someone told you it would be prosperity and wealth, they lied to you. This is a hard journey. And God sees all things. If we live a double life, acting one way in public and another in private, God sees. And he will hold us accountable.
Sometimes I see how people are living and I wonder at it: Don't they realize, don't they understand, don't they know that one day they will be face to face with Jesus himself? And when I'm thinking of this, I'm thinking of pastors. And they don't care, it seems. Don't they think God is real? Then why be a pastor? And if they do believe God is real, don't they realize that they will be judged, and condemned, if they don't repent of watching pornography, of affairs on their husbands or wives, and other sins of the flesh?
Maybe it seems far away or less than real. But it is quite real. It will be a real experience. We'll live through the judgment, moment by moment, and we'll be conscious in eternity, day by day, forever, wherever we spend it. Yet we choose filthy little sins in this life, and give up eternal glory?
Yes, we do. And let me tell you, and myself something: A few months ago, I was doing the same thing. With a little sin I liked to engage in. And I realized the realities of heaven and hell, but I comforted myself that God wouldn't send me to hell, I'm special, God won't punish me, or look on my sins, His grace is too much for that. But we're called to repent. And so I was just playing games. Sinning, repenting, sinning repenting. And it's amazing how I could lie to myself.
"Sin does not leap upon us fully armed. It steals in through a look, a swift, silent suggestion or imagination, but love and loyalty to Jesus will make you watchful and swift to rise up and cast out the subtle enemy. Do this and you shall live, and live victoriously."-Samuel Logan Brengle
Once again we come back to it: The grace of God comes in and saves me from yet another sin that entangles and enslaves my eternal soul. It's such a dangerous situation and we come at these sins and struggles with only weakness. Yet in weakness God brings great strength, and sin is overcome and holiness becomes a lifestyle, a lifestyle of lowly service, of love, and of thinking of others greater than ourselves. It's beautiful and emotionally shocking in beautiful ways.
The trials are great. There is no questioning that. It's so painful at times. Sometimes I end the day and I lay down in bed and feel like my soul was a punching bag that whole day, for people and their problems. And often because of my own failings. But the pain is real. The ache of the soul is so real.
Sometimes we need the pain, and the struggle, and the sorrow, and the difficulty that won't end, and the broken part of you that won't heal. It drives us toward God, closer and closer to him. We struggle with that. But the truth is that without the pain, and the strife, and the struggle, we would probably never return to God. We'd become prideful, and we wouldn't return to the shepherd. We'd hike off on our own, and come to ruin.
But we do return, because of much sorrow. And we are wounded soldiers, wounded healers going into the field. I suppose to the world that seems like great weakness. In my mind it feels like great weakness. In fact, honestly it is weakness. It's complete vulnerability and weakness.
And then you'll be amazed by how God takes that total weakness, and it explodes into victory. But I don't want to phrase it in a way that God makes it 'possible.' Or that God gives us the ability to have the victory, though that does happen. But more so God does it himself, through our obedience. God declares victory and it becomes true.
Gideon's army didn't need 100,000 to overcome the enemy. He only needed 300. But let's be real, God could've done it with 3. Or 0.
What's interesting is that when God's angel first communicated to Gideon, he found him in total weakness. He was hiding, trying to reap his crops in a cellar. And God called him what he wasn't yet, but would soon become: "Hail mighty warrior of God!" Gideon was hiding in terror, but God declared victory over him before the saga had even begun.
God delights to work through people who are truly yielded to him. So we must truly yield ourselves to him. Gideon had hidden faith within him, a radical faith that was daring to say: I can't see how Lord, but I believe you will do the impossible. So how can we grow in our faith? It's simple, but requires a daily method of life. It requires self-discipline, a God-ordered life.
The ways to do it haven't changed. Pray everyday, 30 min-2 hours a day. Set a goal, do it. ('But I don't want to be legalistic!' Please, stop using that as an excuse to be spiritually lazy. God sees your heart, and He knows the truth.) Fast and pray from two or three meals a day, once or twice a week. Or more. Attend a good church community weekly, and attend small group/Bible study. And read the Bible each day, 2-4 chapters a day. Practice silence and solitude.
These practices haven't changed in two thousand years. It's just hard to do it. But, just do it. And if you can't, because most of us can't, then ask God. Go down on your knees before God and ask Him simply saying: "Lord, help me to read my Bible. Help me to pray for an hour a day. Please Lord make it possible!" And believe. And he will make the impossible possible. That's where the battle starts though. It starts in you and me.
We can't fight the battle if we are full of sin, lazy, and don't practice the disciplines and church community. It starts internally, with you and me fighting ourselves. Greater is the man who conquers himself than he who conquers a city. Proverbs 16:32 (GNT) "It is better to be patient than powerful. It is better to win control over yourself than over whole cities."
So then, let us suppose that we do this. Let's say that, perhaps 1,000 of us born again Christians do this. We really get free from all sin, and we really dedicate ourselves to holy living, in the most humble, meek, and loving way. And what if 10,000 Christians do that? What if 100,000 Christians do that, and keep living that way day by day and year by year? What if one million Christians did that worldwide? And what if 2.1 billion Christians worldwide, the general entirety of the church universal, did that? We'd see a great awakening like the world has never seen! A global great awakening! Could you imagine that? I can see it now. Believe for it.
The body of Christ is in need of great internal transformation, and a transformation that manifests itself externally to the glory of God and to the sort of great awakening that we all hope and long for.
The church really needs us to be evangelists, apostles, and disciplers. The church needs us to be evangelist equippers, to send out evangelists into the world to win people to Christ. The church needs us to be disciple equippers, to equip church members to disciple the church body toward holiness and spiritual disciplines. The church needs us to be apostles, embracing boldness, daring, and unconventional means and concepts to expand the kingdom of God into new terrain.
And as we discussed, to be able to do this effectively, we have to practice daily spiritual disciplines, diligent study of scripture and personally study various sub-disciplines of wisdom. We must also be willing to endure great struggle and difficulty. No great things done in the Spirit can be done easily.
So what would all this look like practically? This would look like a sincere body of believers in the church pressing out into the community and inwardly toward discipleship holiness. I see it as evangelism being "baked into" every ministry in the church to develop a culture of evangelism, and groups that go out weekly to talk to people door to door and on the streets and at events.
Just as important would be discipleship groups that closely resemble Wesley's class and band meetings. These meetings would be weekly, and would encourage frank discussions regarding struggles, sin, righteousness, good deeds, and proclamation of the gospel related themes in small groups. Imagine the possibilities. I am just beginning to imagine it.
There is great hope for the future. We don't have to feel lost and upset. We don't have to look at the world and feel weak and troubled. We can look at Jesus and feel His total empowerment. But it starts with me, individually as a person, and then it can spread out to others. But it starts with us, internally, and then must burst forth externally. And I really, truly believe it will. This is just the beginning.
A new time is coming. God is doing a new thing in the body of Christ. I really believe that. I know it's coming. A time is coming when the army of God will have victory after victory. We will rally, for Christ, for the lost, and we will spread the gospel anew to this generation.
It only takes one. It only takes a handful of people who are willing to step forward, in these endless tens of thousands of luke-warm churches and say no! Christ will have ALL there is of me! I reject this uniform standard of mediocrity! I reject luke-warm Christianity! I reject living with one foot in the church and one foot in the world! I reject being content to live in daily sin!
I radically believe that Christ can and will make me holy as He is holy. Believe. Step forward. Reject that halfway standard, even if 80% of the church is living in it. Give it all to Him. Step beyond the lukewarm church, which is simply a wide road to hell, and step into the fullness of Jesus Christ, the fullness of repentance, the fullness of submission to Him, and the fullness of the true Christian life of radical missional devotion to our Lord Jesus Christ.
Justin Steckbauer is the founder of Lifestyleofpeace.com. He is a graduate magna cum laude from Liberty University, currently holding an associates degree in Interdisciplinary Studies and a bachelors degree in the study of Religion. He is currently a graduate student at Olivet Nazarene University working on a masters degree in the study of Ministry. He is a cadet in training at the Salvation Army College for Officer's training (CFOT) as well.