The Faith of Basketball Legend Pat Summitt: God Gave Me 'Certain Work to Do'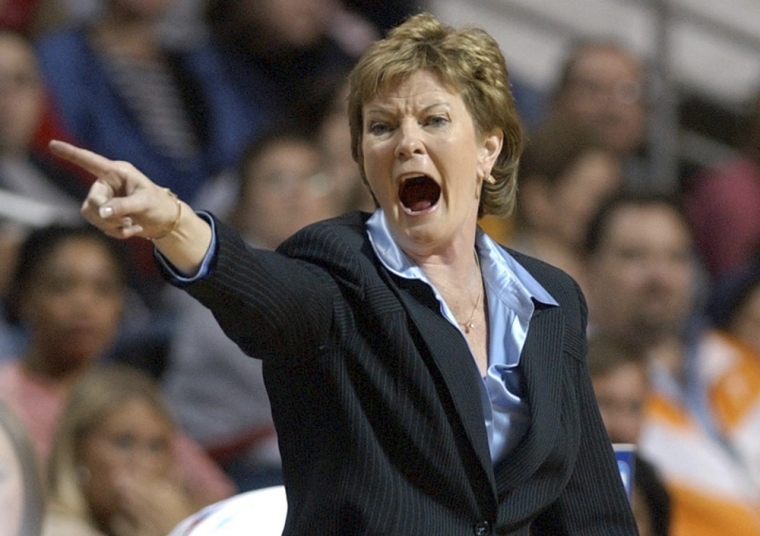 While most sports fans will remember former University of Tennessee coach Pat Summitt as the all-time winningest coach in NCAA women's basketball history, the fallen legend will be remembered by those closest to her as a woman who built her life's successes around her love for Christ.
The 64-year-old Summitt, who led the Lady Volunteers to 1,098 wins and eight national titles over her 38-year coaching career, lost her five-year battle with Alzheimer's Tuesday morning and the news of her death spread sorrow and grief all over the world.
Even though many will remember Summitt as being the instrumental figure who helped push women's college basketball out from the shadows of the men, she leaves behind a legacy of devotion, loyalty and faith that might get lost in the translation of such a profound and influential career.
As Summitt was a devout Christian who attended a Baptist church in Knoxville, Tennessee, her son, Tyler Summitt, the former head coach of the Louisiana Tech Lady Techsters, released a statement Tuesday that described the importance of his mother's faith in her life.
"For 64 years, my mother first built her life upon a strong relationship with her Lord and Savior, Jesus Christ," Summitt wrote in the statement. "Her foundation was also built upon love of her family and of her players, and love of the fundamentals of hard work which reflected her philosophy that 'you win in life with people.'"
Summitt's pastor, Chris Stephens of Faith Promise Church in West Knoxville, said in an interview with a local NBC affiliate that "people didn't realize how important Pat's faith was to her," especially throughout her fight with dementia.
"In her battle, in her physical battle, faith was huge," Stephens said. "She wanted prayer, would take all that she could get."
Although Summitt's intense coaching schedule often prevented her from attending church services during basketball seasons, Stephens recalls that Summitt brought more visitors to the church than any other member.
"The thing that stands out for me is that she would virtually never come alone," Stephens explained. "She would wave at me when I was preaching and say 'Come on over here.' She would introduce coaches, players, friends, people from all around the world that she brought to church."
Although Summitt might have been the most famous congregant at Faith Promise Church, the congregation viewed her as one of their own.
"We didn't see her as a celebrity," Stephens asserted. "When she walked in, we saw her as a sister."
In an interview with the Billy Graham Evangelistic Association in 2013, Tyler Summitt recalled how his mother prayed every morning and read her Bible every day.
"We always went to church," Summitt said. "And if someone asked her [if she's a Christian] she would absolutely say yes."
The news of Summitt's death caused reactions from a number of prominent figures across the United States, including President Barack Obama, presumptive Democratic presidential nominee Hillary Clinton, NFL great Peyton Manning, NBA Hall of Famer Magic Johnson and tennis great Billie Jean King.
A number of Summitt's former players and colleagues also reacted to the news. One of Summitt's former star players Tamika Catchings, who now plays in the WNBA for the Indiana Fever, said in an interview with the Indianapolis Star that one of the most important things that Summitt taught her was to live her life with "class."
"Pat... My Leader, Mentor, Hero & Inspiration" now posted at https://t.co/4zrtRAMark. #RIPPat#Love#AlwaysinMyHeartpic.twitter.com/xmYW2zWQ0F

— Tamika Catchings (@Catchin24) June 29, 2016
"Having integrity in everything you do both on and off the court," Catchings said. "When you look at her life and everything she's accomplished, people talk about her integrity. In every single thing that you do, always carry yourself with class."
Holly Warlick, who replaced Summitt as head coach of the Lady Vols in 2012 after serving as an assistant under Summitt since 1985, told the media on Tuesday that Summitt's ability to impact the lives of many was the "gift God gave her."
"It's just simply amazes me the impact Pat's made in so many people's lives and outside lives that Pat didn't even know, but that's the gift God gave her and she will be greatly missed," Warlick said with a heavy heart and teary eyes.
Michael Foust, a University of Tennessee graduate who covered Summitt when he was sports editor of the school paper, wrote an op-ed published by Christian Examiner that quotes Summitt as telling biographer Sally Jenkins, "I know that everything I've been given came as gifts from God, and he has a way of reminding us, 'This is my work.'"
"God's plan is a mystery to me," Summitt was quoted as saying. "I just know that I was given certain work to do..."