The Gospel of Jesus' Wife: Ancient Fragment Stirs Debate
A historian from Harvard Divinity School revealed on Tuesday what she claims to be a fourth century fragment of papyrus containing the phrase (in Coptic) "Jesus said to them, 'My wife ... '"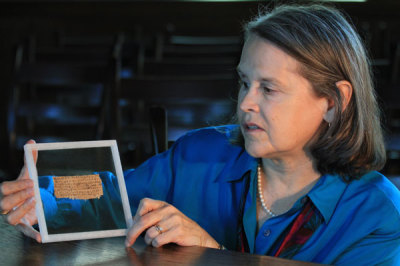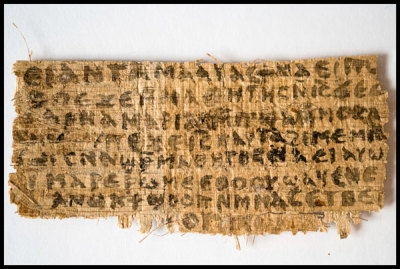 The small fragment – referred to as the Gospel of Jesus' Wife – suggests that some early Christians might have held the view that Jesus was married, according to Professor Karen King, who unveiled the findings at the Tenth International Congress of Coptic Studies in Rome. What the text does not do, she stressed, is prove that Jesus had a wife.
"The aim of this analysis is not to reconstruct the historical Jesus, that is, to argue whether the historical Jesus had a wife or was celibate," King wrote in her analysis for the upcoming January edition of the Harvard Theological Review. "Nor do I argue that historically there is any evidence that if Jesus was married, it was to Mary Magdalene. She appears in the most reliable historical information as a prominent disciple of Jesus.
"Rather, the importance of the Gospel of Jesus's Wife lies in supplying a new voice within the diverse chorus of early Christian traditions about Jesus that documents that some Christians depicted Jesus as married."
Darrell L. Bock, senior research professor of New Testament Studies at Dallas Theological Seminary, told The Christian Post that this is one text among a mountain of texts that say Jesus was single. If the papyrus is authentic, it would be the first text to suggest that Jesus had a wife.
But even so, he added, it represents "a very small minority in a much later period than original Christianity."
"It is a fourth century text in a fringe gnostic group that is not representative of the larger groups that are [part of] Christianity," he said.
Bock, author of the newly released Who Is Jesus?: Linking the Historical Jesus With the Christ of Faith, also suggested that this could "well be metaphorical" – a representation of Jesus being married to the church. The New Testament scholar doesn't believe there was a "serious debate" about Jesus being married among early Christians.
Dr. Joel B. Green, Fuller Seminary's professor of New Testament Interpretation, echoed his sentiments.
"We have no evidence at all of any debate among the earliest followers of Jesus regarding Jesus' marital status," he told CP. "This debate surfaced later. It's important to put this in context. Popular literature (say, from the third and fourth centuries) made all sorts of claims about Jesus – about his childhood and early years, for example, but also whether he was married. These claims really don't tell us anything about Jesus of Nazareth, the historical person who lived in the first third of the first century. They do tell us about how some people in later centuries worked out their own beliefs and practices."
Green expressed concern over the "hype" that often surrounds this sort of discovery.
He noted that the fragment itself is very small (4 cm in height by 8 cm in width) so "any claims that might be put forward about what it means will be guesses – educated guesses, maybe, but guesses nonetheless."
The fragment, which belongs to a private collector, contains eight incomplete lines of script and illegible traces of a ninth. None of the margins are preserved.
Among the phrases on the papyrus:
• "not [to] me. My mother gave to me li[fe..."
• "The disciples said to Jesus,"
• "deny. Mary is worthy of it"
• "... Jesus said to them, 'My wife ... "
• "... she will be able to be my disciple ..."
• "Let wicked people swell up ..."
• "As for me, I dwell with her in order to"
• "an image"
According to the analysis, nothing is known about the circumstances of its discovery. King believes it may have been excavated from an area in Upper Egypt.
And while King has been careful to say what she knows and what she doesn't know, "this kind of nuance will likely be lost if people rush into new speculation about Jesus' marital status," Green commented.
The Smithsonian Channel will be featuring an hour-long documentary on the findings on Sept. 30. A preview of the upcoming show features one woman stating that "people will reassess Christian theology" because of this discovery.
In response, Bock called it "an exaggeration of the importance of the text." It's like making a footnote the center of the story, he compared.
READ: WHY DO CHRISTIANS ASSUME THAT JESUS WASN'T MARRIED?