The Invisible War: Female Soldiers Reveal Epidemic of Sexual Assault in Military
The Invisible War: Female Soldiers Reveal Epidemic of Sexual Assault in Military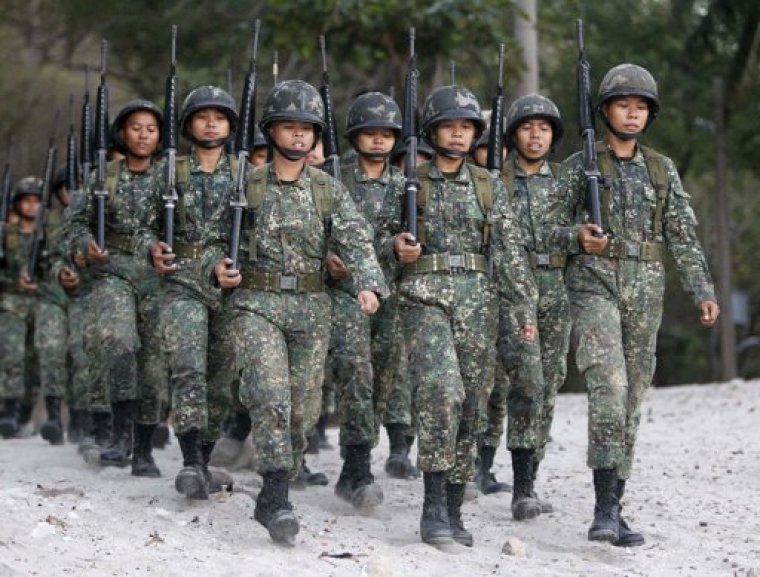 Editor's Note: This article contains explicit content about sexual assault.
"The Invisible War," nominated for Best Documentary Feature at the 85th Academy Awards, exposes a hidden secret within the United States Military: the epidemic of sexual assault against female soldiers.
Academy Award and Emmy nominated director Kirby Dick along with Emmy nominated and award winning producer Amy Zierling joined forces to give voice to the victims of military sexual trauma. The idea was birthed after Amy became horrified after reading an article in The Salon about one woman's tragic experience.
"There is nothing like veterans who have suffered sexual military trauma. They have to rebuild their life from the ground up," Zierling says in the documentary.
Although the percentage of high ranking women and women who command high-ranking units has increased during the Afghanistan and Iraq wars, over 500,000 women have been sexually assaulted in the military. The amount of sexual assaults reported to the Public Defense in 2010 was over 19,000.
According to the Public Defense, one in three women are sexually assaulted during their military service.
Attorney Susan Burke who worked with advocacy communities to record stories for the documentary points out that there is a difference in being raped in the military versus being raped in civilian life. "You are forced to work in such close proximity with your predator. You can't express self-help. Some victims feel that the only choice you have is to go AWOL, commit suicide or put up with it."
Female soldiers who have suffered trauma believe that civilians see this issue as a military problem. However, studies have shown that rapists are repetitive criminals who attack regardless of their demographic.
The Christian Post sat down with a female military officer, who requested not to be named because she was not authorized to speak to the media, who shared her story of surviving rape in the United States Army.
"He was someone that I befriended. I trusted. We became friends over a few months' time just hanging out. We would exchange flirtations but in my eyes it would never go there. We were just friends. One evening we were driving back to the barracks. He pulled over unexpectedly but I thought nothing of it. Before I realized, he began to kiss me aggressively. I slapped him out of anger. We were friends. What was he doing? He pulled out a knife, pressed it against my cheek and told me that if I moved or made a sound he would kill me. He ripped open my shirt, kissed and bit my breasts. He continued to press the knife against my cheek as he raped me in the car. He dropped me off like nothing had happened. I have the scar on my cheek from when the blade entered my skin while he ejaculated."
Countless stories of sexual assault against female soldiers are hidden within military walls. However, as the issue of sexual assault comes to the forefront, more women are coming forward. On the Tuesday edition of TV show "Katie," news host Katie Couric invited female soldiers to share about their painful experience of post-traumatic stress disorder due to numerous sexual assaults they faced while serving the country.
Kori Cioca, a former officer of the Coast Guard, shared about how her predator befriended her, became possessive, would thrust himself on her, spit in her face when she declined his advances and eventually raped her.
"I reported the rape to my senior chief who told me that they were not bringing in the CGI because my predator was needed as a trainer. I was told that he would be out of my section and that I would be fine," Cioca told Katie. "I did what I was told. Nothing was done. I feel kinda stupid now because I had so much faith in the system."
Physical abuse during the rape left Cioca with a severely injured jaw. The VA took seven years to respond for her request for aid. Out of fear she now carries a crucifix and a knife. "The crucifix I carry because I have never prayed so much in my life. The knife is for protection. When you are held down like that and someone enters your body, you never want to feel that powerless."
The Lakeland Air Force Base sex scandal in which 59 survivors of assault have been identified has forced Defense Secretary Leon Panetta to evaluate military training procedures. With the ban lifted on women fighting in combat, many survivors question if female soldiers can be protected from their male peers.
"If we can take down Osama Bin Laden, we can take down military sexual abuse," said Cioca.