'The New Black' Documentary Examines 'Homophobia' in and 'Exploitation' of the Black Church Amid Gay Marriage Movement
A documentary being broadcast by PBS titled, "The New Black," examines how the Christian right capitalizes on "homophobia in the black community's institutional pillar — the black church" in order to "pursue an anti-gay political agenda."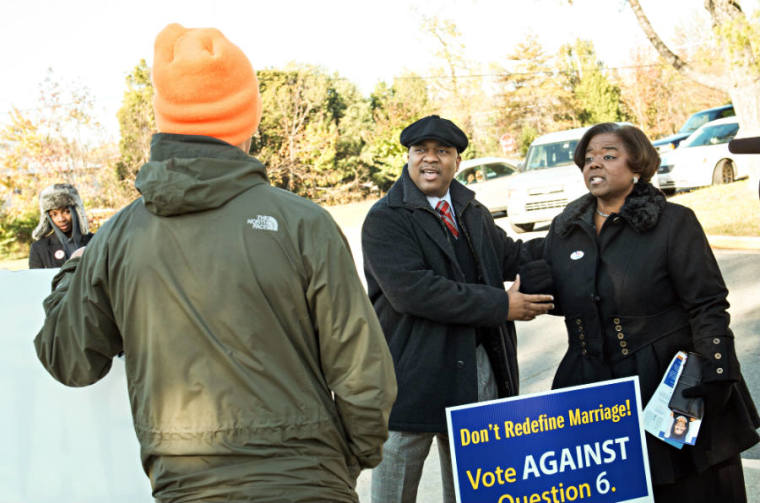 "The New Black" aims to portray how the African-American community has grappled with issues related to homosexuality in light of the same-sex marriage movement in the U.S., specifically with the successful push to redefine marriage in Maryland in 2012 serving as the backdrop. Featured in the documentary are activists, families, and members of the clergy, all at odds on what proponents deem a civil rights issue and what opponents view as the legimitazion of sinful behavior.
Making an appearance in "The New Black" are Sharon J. Lettman-Hicks, executive director and chief executive officer of the National Black Justice Coalition; Derek McCoy, president of the Maryland Family Alliance and the Maryland Family Council and associate pastor at Hope Christian Church in Beltsville, Maryland; and the Rev. Delman Coates, pastor at Mount Ennon Baptist Church in Clinton, Maryland, and a candidate for lieutenant governor in the state.
Watch the official trailer for "The New Black" documentary:
At the forefront of the conservative pushback against legalizing gay marriage in the state was the Maryland Family Alliance and the Maryland Family Council, both tied to the local congregation, Hope Christian Church led by Senior Pastor Bishop Harry R. Jackson, Jr. Jackson was a frequent conservative voice in public discussions about the marriage movement in his state.
Partial funding for the Maryland Marriage Alliance came from the National Organization for Marriage, whose "National Strategy for Winning the Marriage Battle" was revealed during a 2012 investigation by the State of Maine into the nonprofit's campaign finance activities. NOM states in confidential internal memos, all dated to 2009, that the "strategic goal of this project is to drive a wedge between gays and blacks — two key Democratic constituencies."
"Find, equip, energize and connect African American spokespeople for marriage, develop a media campaign around their objections to gay marriage as a civil right; provoke the gay marriage base into responding by denouncing these spokesmen and women as bigots," reads another memo.
NOM President Brian Brown defended his organization's strategies, stating, "Gay marriage is not a civil right, and we will continue to point this out in written materials such as those released in Maine. We proudly bring together people of different races, creeds and colors to fight for our most fundamental institution: marriage."
While the traidtional black church has long been viewed as the fundamental institution of the African-American community, black Americans remain divided over homosexuality, particularly when religion comes into play. The Pew Research Center reported an uptick this year compared to 2013 among black Protestants in favor of same-sex marriage (32 percent to 43 percent). However, a 2013 survey also from Pew found that 79 percent of black Protestants believed homosexuality is a sin. The same survey also found that nearly 60 percent of black Protestants felt that there was some conflict between their religious beliefs and homosexuality, while 35 percent felt there was no conflict. An NBC News/Wall Street Journal poll found last year, however, that at least half of black Americans were in favor of same-sex marriage.
Yoruba Richen, the director, producer and writer for "The New Black," has stated that she believes the fight for gay rights is "a fight for the African-American family."
"In the course of production, I realized that the issue of gay rights in the black community is in many ways a fight over the African-American family, which has been a contested space since the time of slavery," she states on the documentary's website.
"So marriage is not just about marriage for black people – it's also about how blacks have become accepted as legitimate participants in American society. The gay marriage question has forced a conversation in the black community, which is taking place in our churches, our houses, our neighborhoods and the ballot box."
"The New Black," screened at film festivals and at various venues in several states, makes its television debut Sunday, June 15 at 10:30 p.m. ET as an Independent Lens presentation on PBS.
Also making an appearance in "The New Black" is Anthony Charles Williams II (stage name B.Slade, formerly Tonex), an award-winning gospel recording artist who surprised many when he publicly came out as gay in 2009.
Watch an excerpt of his interview from "The New Black" in the video player below: