The New York Yankees' Aaron Judge Looks Like a Lock to Start in the All-Star Game Again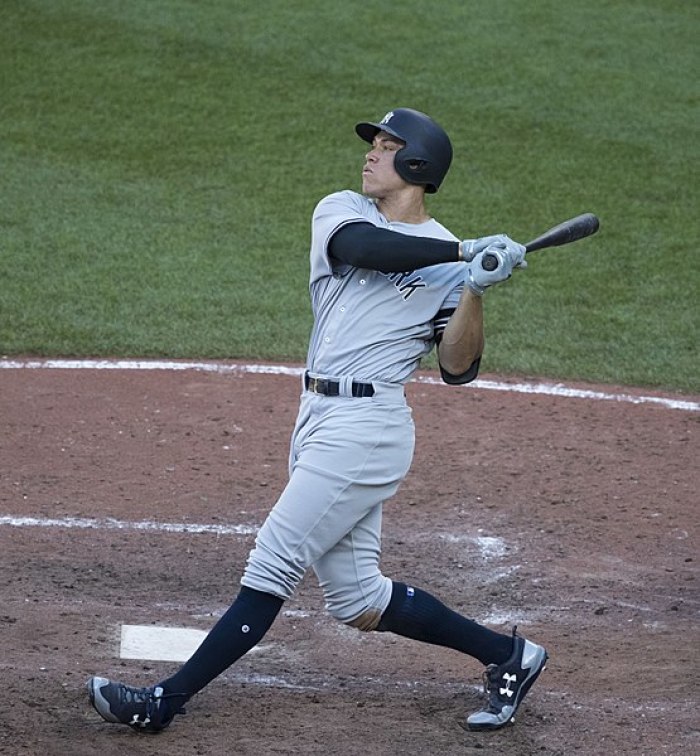 The 89th MLB All-Star Game is just a little over a month away, and some of the likely starters for the American League team have emerged.
The latest ballot update for the American League was posted recently on MLB.com, and there are no real surprises among the leading vote-getters.
What is worth noting though is that some starting spots already seem to be locked up.
Jose Altuve of the Houston Astros is so far ahead of the New York Yankees' Gleyber Torres that he can probably already start planning ahead for his trip to Washington.
The Cleveland Indians' Jose Ramirez also has a big lead at third base, and it's hard to imagine any of his closest competitors overtaking him in the voting.
Boston Red Sox offseason acquisition J.D. Martinez has been on fire recently, so him leading all designated hitters at the polls is no surprise.
It's also remarkable that all three outfield spots for the American League team may be secured already.
Mookie Betts of the Red Sox leads the way for all vote-getters in the American League and trailing not too far behind him is the Los Angeles Angels' Mike Trout. Rounding out the AL outfield trio is the Yankees' Aaron Judge.
Judge is actually closer in terms of votes to Betts than he is to the player who is currently in fourth place in the outfield race, with that being the Indians' Michael Brantley.
Judge being in a position to secure his second consecutive start in MLB's Midsummer Classic is further evidence that he is no one-season wonder.
Given how often he struck out last season, there were some fans concerned that Judge could have trouble repeating his successful campaign.
To be clear, Judge is still striking out a lot this season, with Fangraphs noting that his strikeout rate is once again above 30 percent. However, just as those strikeouts couldn't keep Judge down last season, it seems like he is again finding ways to succeed despite the hole in his game.
Judge's other talents as a baseball player more than makeup for his one glaring flaw.
For instance, even though Judge does indeed swing and miss a lot, he also the ability to work counts and get on base consistently via walks.
Also, even if Judge whiffs often, he more than makes up for those misses during the times when he does hit the baseball. Few players in the Majors can hit the ball as hard as Judge can, and that's why racking up the home runs comes so natural to him.
One more underrated aspect of Judge's game is his defense. Judge covers plenty of ground in right field for the Yankees and he's also used that cannon attached to his right shoulder to produce some highlight reel throws this season.
Judge has done more than enough this season to show that he's no fluke. If anything, he's proving more doubters wrong and is showing them that he is one of the true superstars of the game.