Three New Carolina Churches Drop Boy Scouts of America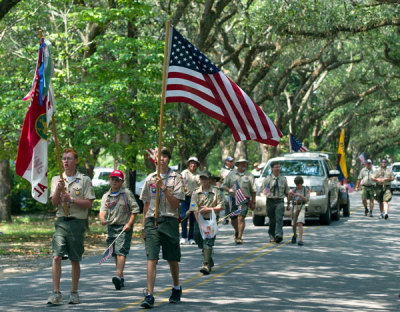 Following a Boy Scouts of American (BCA) decision to allow openly gay scouts, three North Carolina churches have announced this fall that they will no longer sponsor Boy Scout troops.
Calvary Church has hosted the Boy Scouts for 20 years, however, Rev. Jim Pile, pastor of family ministries, recently explained that the church wanted to narrow its programming to something that had a specific spiritual formation angle. He did not specify if the church's decision had been a response to the BCA's policy shift on homosexuality.
"The ministries of Calvary Church are aligned with our purpose of making authentic followers of Jesus Christ. This is not the mission of the Boy Scouts of America," Pile wrote in an email to The Charlotte Observer.
George Tucker, who served as a Scout leader for the troops at Calvary Church, said that the email informing him of the church's decision did not go into detail about why it had dropped the Scouts.
Though he understands where the church is coming from, Tucker said he personally believes that its motive was based on the BCA's ruling though "nobody will publicly admit the specifics."
Troop leaders must now find a new charter institution which must not only be able to host more than 100 boys, but also serve as a stakeholder in troop decisions and approve troop membership and leadership teams.
Joining with Calvary Church in ending its relationship with the Boy Scouts are two other Charlotte-area churches, Arlington Baptist and Grace Covenant, said Mark Turner, Scout Director for the Mecklenburg County Council.
The BCA's 1,400 voting members approved a resolution to permit openly gay scouts in May of this year.
"The Boy Scouts of America will not sacrifice its mission, or the youth served by the movement, by allowing the organization to be consumed by a single, divisive, and unresolved societal issue," BCA said in a statement about the decision, which will go into effect on Jan. 1.
The BCA did not lift a ban on gay Scout leaders.
Of the BCA's three largest chartering institutions, the Mormon, Methodist and Catholic Churches, none have publicly condemned the decision or ruled that their bodies would no longer host Boy Scouts. Churches make up over 70 percent of current chartering institutions.
Some Boy Scout leaders who have themselves disagreed with the BCA's decision have joined an alternative program known as Trail Life USA. A "Christian adventure, character, and leadership program for young men," its vision is to "be the premier national character development organization for young men which produces Godly and responsible husbands, fathers, and citizens."
Earlier this month, The Christian Post covered a Pennsylvania church's decision to evict the Boy Scouts after a close to 100-year relationship with the church.