Tim LaHaye's Memorial Service: 'Left Behind' Author Was Foremost a Man of God, Soul Winner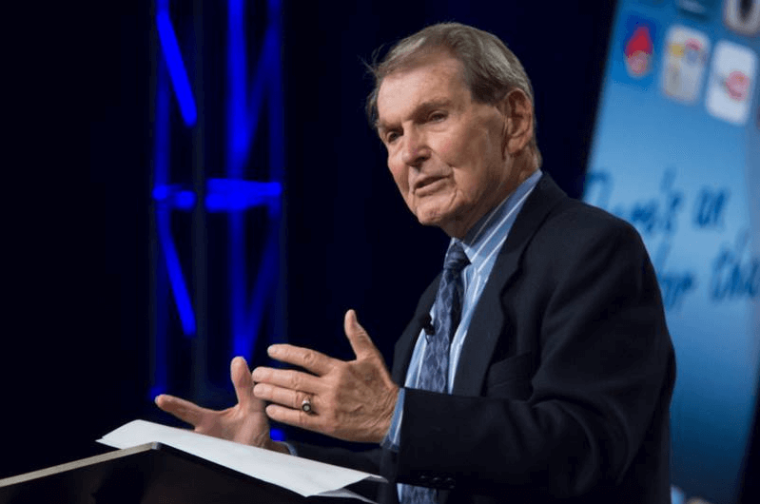 Megachurch pastor David Jeremiah remembered Tim LaHaye, best known for co-authoring the bestselling book series Left Behind, as someone that challenged him to be a better person every time he met him, during a memorial service for LaHaye Friday morning.
"I would leave always wanting to do better" and serve Jesus Christ more, said Jeremiah, senior pastor of Shadow Mountain Community Church, where the memorial service was held, in the San Diego suburb. Tim LaHaye was the former senior pastor of Shadow Mountain Community Church before Jeremiah took over the role.
LaHaye died on July 25 at age 90, and is survived by his wife, Beverly, four children, nine grandchildren and 16 great-grandchildren, all of whom were in attendance at the memorial service, arriving from eight different states.
In his message honoring LaHaye, Jeremiah began by saying that there is a term that appears in the Old Testament 75 times in 70 passages: Man of God. Five people are given that title: Moses, Samuel, David, Elijah, and Elisha.
But in the New Testament, only one reference is found, and interestingly enough, it refers to a man named Tim.
1 Timothy 6:11 reads: "But you, man of God, flee from all this, and pursue righteousness, godliness, faith, love, endurance, and gentleness" — an apt description of LaHaye's life, said Jeremiah.
He also noted that despite LaHaye selling over 90 million copies of his Left Behind book series, which he co-authored with Jerry Jenkins, the money and popularity that ensued never changed him.
"I knew Tim LaHaye before the Left Behind series and I knew him after and I couldn't tell the difference," Jeremiah shared.
LaHaye's co-author of the end times series, Jerry Jenkins, recalled many memories he shared with the pastor/bestselling author and said it was an "unspeakable privilege" to have known LaHaye. Having seen LaHaye up-close-and-personal, Jenkins shared about a particularly strong memory he had of his writing partner. Jenkins said that during their travels if LaHaye suddenly disappeared, he could often be found somewhere praying with someone he just met.
Jenkins sprinkled many humorous anecdotes about LaHaye in his tribute, including how he was first introduced to LaHaye as "a bestselling nonfiction author with a great fiction idea, and you're a novelist with no ideas," which he recounted with a laugh.
He also shared about the time they were in Atlanta at a book signing event, and LaHaye had forgotten his hearing aid. A woman that got her book signed had returned 20 minutes later to buy an entire box of their books.
LaHaye said to her, "You're back!"
She replied, "Yes, on my way home the Holy Spirit arrested me and told me to buy a box of books for my friends."
Not having heard her correctly, LaHaye said, "What did you get arrested for, speeding?"
But Jenkins said he will remember LaHaye most as a soul-winner.
"He was way more interested in reports of who had come to faith than he was about any royalty check or bestseller list. And as thrilled as I am that he is now where he has always wanted to be, his departure leaves a void in my soul."
Three of LaHaye's grandsons and his two daughters, Lori and Linda, through tears, shared fond memories of "Pop." All of them noted that sharing the good news of the Gospel was his greatest joy.
At the end of the service, Tim's wife, Beverly LaHaye, gathered their entire family to share with each generation what she and LaHaye had been praying for them.
"I'm sure today, he's looking forward to all 39 of you joining him in heaven one day, to spend eternity in the presence of our Savior, who gave his life for each one of you. He would not want any one of you to be left behind, and I say that with all sincerity," she concluded.