Tim Tebow Asks 'Inspirational' Fan to Dance on 'Tonight Show' With Jimmy Fallon (Video)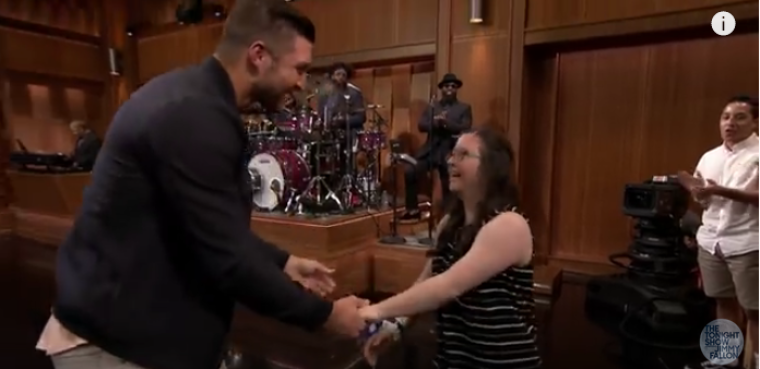 Tim Tebow had to decline a prom invitation last February, but the star athlete made up for it this week by inviting the fan who made the special request to dance with him on "The Tonight Show" with Jimmy Fallon.
Tebow, the 29-year-old professional athlete, author and motivational speaker who also heads the Tim Tebow Foundation, appeared on comedian Jimmy Fallon's "The Tonight Show" this week where he surprised his special needs fan. Every year, Tebow's foundation hosts a prom just before Valentine's Day called Night To Shine for special needs kids.
Tebow didn't go to prom in high school, but this year his fan Judy Adams invited him to attend the Night To Shine festivities with her. The NFL player turned Columbia Fireflies baseball outfielder had to decline because of other obligations.
However, he invited Adams and her mother to Fallon's late night talk show this week before asking the young girl for a dance.
"There's actually a special girl in the audience that went to Night to Shine in New York and she is so amazing. She's so inspirational," Tebow said. "She actually reached out to me and invited me to prom and I was kind of flying all over the world going to a lot of them. But we invited her mom here today and she is here.
"And I'm here, and so Judy Adams I was wondering if maybe I could have a dance."
The camera panned in to Adams' mother wiping away tears as her daughter slow danced with Tebow who also gifted her with a corsage.
Before the dance, Tebow had an exchange with Fallon who said he was impressed with Tebow's foundation that helps children throughout the world. This year, he revealed that his Night to Shine event took place in all 50 states and 11 countries in over 375 locations.
"Kids with special needs are being celebrated, they're walking down red carpets, being cheered for, and it's my favorite night of the year," he said.
The evangelical Christian has made work with his Tim Tebow foundation a priority. The foundation builds playrooms in children's hospitals all over the world, has granted sick children's wishes, and works to aid in the process of adoption.
In a previous interview with People magazine, Tebow said he hopes his foundation is a huge part of his legacy.
"I hope that when I'm 90 years old, I've accomplished a legacy that isn't all about me. I hope it's a legacy about the people who our foundation helps," Tebow told People. "... We can make a difference in their lives."