Tim Tebow Breaks Up NFL Fight With Moses-Like Power? Players Parted Like the Red Sea, Sports Writer Claims
Tim Tebow Breaks Up NFL Fight With Moses-Like Power? Players Parted Like the Red Sea, Sports Writer Claims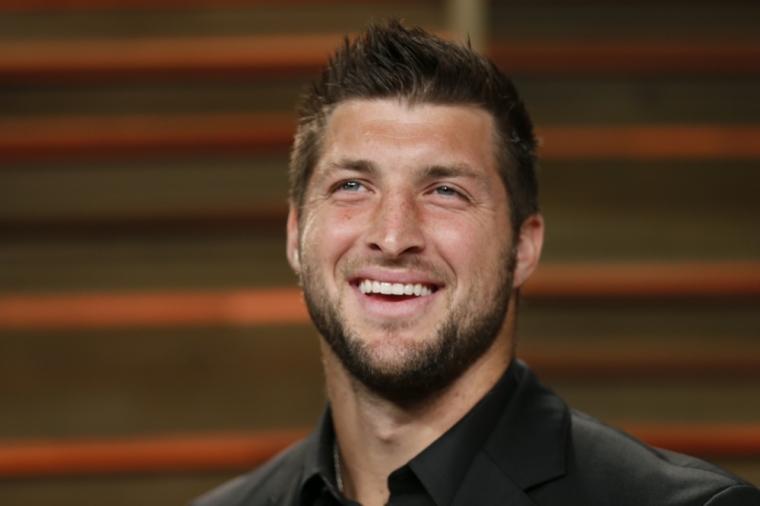 Working to earn his spot on the Philadelphia Eagles, new quarterback Tim Tebow was reportedly instrumental in breaking up a scuffle in a seemingly divine way, according to one sports reporter.
During a joint preseason NFL practice involving the Philadelphia Eagles and Baltimore Ravens, Bleacher Report's NFL writer Michael Tanier reported that Tebow, 28, ended a fight that broke out between the two teams.
"4th stringer fight on the far field. But @TimTebow wades in and they part like the Red Sea," Tanier revealed in a tweet that has since been picked up by Sports Illustrated, Fox Sports, and TIME.
The sports writer may have been exaggerating the tale, which has seemed to take on a life of its own. He went on to admit that he didn't have the best view of the scuffle that took place on the far field where Tebow was said to step in.
"I had a much better view of the radio guy on radio guy #Eagles sideline fight than the scuffle on the far field," Tanier wrote.
While Tebow is working to become the Eagles' third-string quarterback, he received a standing ovation when he made his way onto the field in his first preseason game since 2013. The Evangelical Christian quarterback, who was last signed with the New England Patriots, made a touchdown in the fourth quarter of the first Eagles' preseason game on Aug. 16.
In the Eagles 36-10 preseason victory against the Indianapolis Colts, Tebow said he had fun after he completed six of 12 pass attempts for 69 yards and drove the ball for a 7-yard touchdown.
"Playing ball. I loved it. You want to be focused on footwork, reads, communication with everybody but also enjoy the moment," Tebow said in an ESPN report after his team's victory. "You won't always have it."
Although he received a standing ovation in the game, Tebow remained humble about both the recognition and his touchdown in the game.
"I was thankful. But I was also like, '[My teammates] won't be able to hear me! We'll have to go [to a] silent [count],'" Tebow said. "It's very humbling. It definitely means a lot. ... Seeing the end zone and fighting to get in — I've been blessed to have a few opportunities in my life."
Still, the Evangelical Christian quarterback admitted that he still has work to do to improve his performance.
"I did some things well," Tebow said in the ESPN report. "I think there's some things that we want to work on. For me, it's going back, watching film, looking at everything, trying to make corrections and get better one day at a time."
Outside of working to earn a spot on the Eagles by the time the NFL regular season begins on Sept. 10, Tebow is focusing on his humanitarian efforts with his Tim Tebow Foundation.
Since 2010, Tebow's foundation has established a number of initiatives such as the W15H program that gives children with life-threatening diseases the opportunity to make their dreams come true, provides goods and medical services to underprivileged children in the Philippines, where they also built the Tim Tebow CURE Hospital, and has also organized an annual prom for special needs children in the United States.
On his 28th birthday Aug. 14,Tebow counted the opportunity to head the foundation as a blessing.
"Many blessings in my 28 yrs. Being part of 5 yrs of @tebowfoundation is one of the best!" Tebow tweeted.