Tim Tebow Does Not Seem to Be Major League-Bound, but He'll Keep Trying to Change That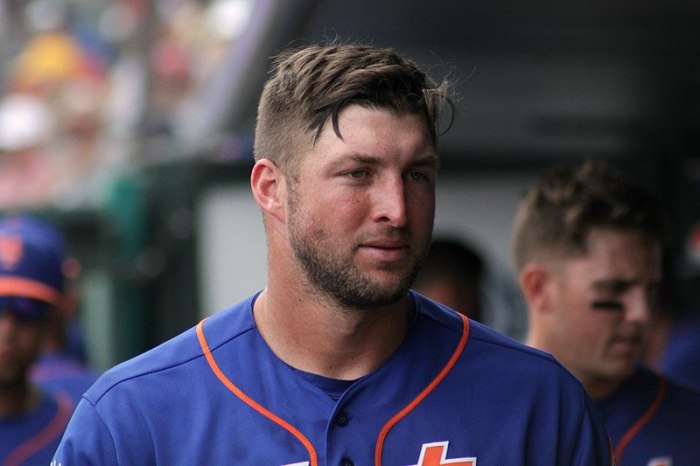 When Minor Leaguers garner headlines or segments devoted to them on TV shows, it's usually because they are elite prospects and fans and analysts alike are trying to predict how good they will still be when they make it to the Majors. Tim Tebow is an example of a Minor Leaguer getting plenty of attention, but he's far from being a top prospect.
Ever since Tebow first expressed interest in pursuing a career in pro baseball back in 2016, members of the media have followed his progress through the Minor Leagues.
After signing with the New York Mets in September of that same year, Tebow subsequently got his professional baseball career off to the best possible start when he hit a home run in his first at-bat with the organization over the wall.
Unfortunately for Tebow, the rest of his time in the Minor Leagues has not gone as well.
Currently, Tebow is playing for the Mets' affiliate known as the Binghamton Rumble Ponies.
Per Fangraphs, Tebow's batting line for this season is actually better than what he put up last year, suggesting that the step up in competition may actually be helping him.
It's steady improvement, and it is remarkable that he is doing this well despite spending more than a decade not playing baseball full time.
So, does this mean that Tebow has put himself on track for the Major Leagues?
Well, not exactly, because, as the improvements are certainly encouraging, they also obscure some things that point to fundamental flaws in Tebow's approach at the plate.
Speaking recently to USA Today Sports, Mark Shreve, the co-founder and editor of the website 2080 Baseball, noted that Tebow's inability to consistently identify pitches and his sky-high strikeout rate suggest that he may not be able to hit at a level higher than Double-A.
At the moment, Tebow's strikeout rate is north of 38 percent, and that would be considered high even for someone in the Major Leagues.
It's not like Tebow has time on his side, too. As a soon to be 31-year-old in Double-A baseball, it would not be wise to assume that things will eventually just start to click and he'll suddenly go on a tear.
The reality is that Tebow is probably closer to his decline phase as an athlete rather than his prime, and that does not bode well for his Major League prospects.
And yet, despite the long odds, Tebow is not anywhere close to giving up on his dream of making it to the Majors.
When asked about how much longer he intends to play professional baseball, Tebow told the Asbury Park Press that the matter is something is something he will first have to think and pray about before saying that it's difficult for him to come up with a timetable.
Tebow added: "How do you put a timetable on a game, ambitions or heart?"
Tebow has never been one for giving up, so it's not at all surprising to hear his thoughts on his future in professional baseball.
The Major Leagues may be out of reach for Tebow, but he'll continue trying to get there for as long as he can.