Timeshia Brown's Newspaper Ad Embarrasses Cheating Husband and Pregnant Mistress (PHOTO)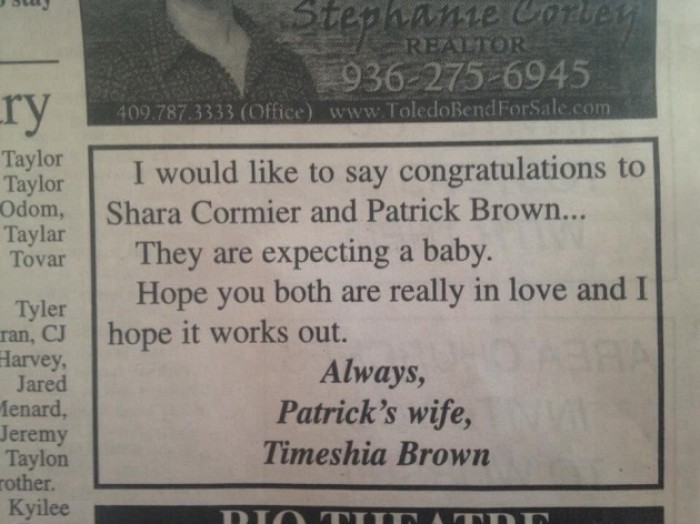 Timeshia Brown's newspaper ad has been making rounds on the internet exposing her husband's infidelity in what is being called the most passive-aggressive manner ever. Brown named both her husband and his pregnant mistress, Shara Cormier.
Timeshia Brown's newspaper ad has been circulating around east Texas, where Cormier lives. Although not much is known about the situation, but it has spread across the Internet virally since it popped up on Reddit, Facebook and a host of other media sites.
"I would like to say congratulations to Shara Cormier and Patrick Brown … They are expecting a baby. Hope you both are really in love and I hope it works out," the ad reads.
"Always, Patrick's wife, Timeshia Brown," it ends.
Though there wasn't much more information alongside the ad, but certain news outlets have identified the alleged adulterers as living in Hemphill, Texas— the expecting couple befriended each other on Facebook.
The ad was initially posted on a Reddit forum by user kavien, who said he found it on Facebook. Of course, along with posting the newspaper clipping of a woman scorned on an Internet forum came plenty of jokes.
"You would think Timeshia would be the one with another's child, since Patrick only gets her 2 weeks out of the year," GentlemanBehold wrote, referring to the fact that the wife's unusual name bears a resemblance to the word "timeshare."
"Forget about the name. That is a classic move by her," another wrote.
"It's about TIMESHIA got a divorce amirite?!" blumelon added.
Cormier's relatives and friends that also live in Sabine County, Texas declined to comment on the ad.