Tina Campbell Reveals Why She Voted for Donald Trump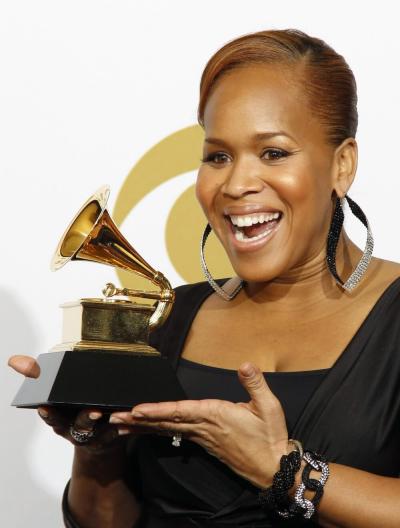 Tina Campbell is revealing why she decided to vote for Donald Trump in the last presidential election.
Campbell, the gospel music singer who is currently starring in the final season of the We TV show "Mary Mary," caused a stir when she wrote an open letter to Trump and called for people to pray for him earlier this year. After a number of her social media followers disagreed with her calling for prayer for the controversial president, Campbell opened up to The Root about why she helped vote him into office.
"I was faced with two presidential candidates that I really did not approve of. So I had to find something, a commonality with one of them, that would make me feel like if I have to vote, I should utilize my right to vote," she explained. "Since I don't prefer either of them, what can I find that would make me vote? And some of Donald Trump's views on Christianity, honestly, is what caused me to vote for him."
Despite voting for Trump, Campbell insisted fans of her reality television series with her sister, Erica Campbell, will not feature any conversations about him.
"You ain't never going to see that in there. Donald Trump is not that much a part of my life," she insisted. "I had a perspective ... I put it out there."
Still, Tina Campbell understands why many disagree with her perspective about Trump and admitted that she does not entirely agree with the president.
"I know there's some people who don't agree. I do not agree with a lot of the decisions that this man makes," she said. "And I made that very clear in my statement. Many of the decisions that he has made afterwards, I have not been in agreement with at all, which I wasn't in agreement with my last president that I voted for."
Still, she stood firm in her decision to pray for the president and call for others to do the same.
"But however, as a Christian, my perspective is to pray for the president, to not use my social platforms or other platforms to try to destroy this man, because at the end of the day, he still represents the country that I live in," she said.
Last January, the singer-songwriter took to her Facebook page to share "An Open Letter Regarding President Donald Trump."
Citing Ephesians 3:20, Campbell revealed why she would show compassion even when she disagrees with the president.
"I believe that understanding and compassion is absolutely necessary for the progress of all people. So, although I don't always understand or agree with Mr. Donald Trump's politics, perspective, and approach, I believe that the same God that created all of us has deposited greatness inside of him that goes far beyond what many of us have seen and what many of us could imagine," she wrote. "I believe that God can do exceeding abundantly above all that we can ask or think, according to the power that works in us. I believe that the power that works in us is our ability to love, and unify, and humble ourselves, and forgive, and hope, and pray, and educate ourselves, and apply wisdom and hard work to knowledge."