Tom Cruise and Katie Holmes Divorce, $275 Million Estate Split?
Tom Cruise and Katie Holmes are divorcing, according to reports, and between the two Hollywood movie stars, their estate is upwards of $275 million.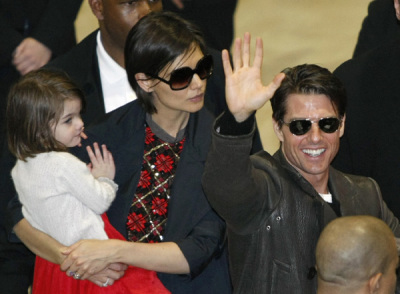 Tom Cruise and Katie Holmes' divorce was reported Friday by numerous news outlets, who confirmed that the couple of five years would be splitting soon. Although it is unclear if divorce papers have already been filed, the couple stated through their lawyer that the first priority is their 6-year-old daughter, Suri.
"This is a personal and private matter for Katie and her family," Holmes attorney, Jonathan Wolfe, told People magazine. "Katie's primary concern remains, as it always has been, her daughter's best interest."
Because no divorce papers have yet come to light, it is unsure if Cruise- the more popular movie star of the two- will have to pay child support, alimony, or anything else in proceedings. According to TMZ, though, he could end up paying nothing because of an existing pre-nuptial agreement.
"We're told Tom and Katie have a prenup," TMZ reported. "The net worth of both Tom and Katie is around $275 mil, but clearly Tom raked in most of that."
Though the couple's split was a surprise to some, one clue could have given it away. Cruise starred in the rock epic "Rock of Ages," but at the premieres, his wife was nowhere to be seen. In addition, the "Mission Impossible" star was spotted in faraway Iceland shooting a movie called "Oblivion," while his wife and daughter were seen in New York.
For Cruise, 49, the split is a familiar feeling. He was previously married to Nicole Kidman, with whom he had two children. Before that, he was married to Mimi Rogers, an actress, from 1987 to 1990.
For Holmes, 33, this was her first marriage. The wedding took place in November 2006 in a luxurious ceremony at an Italian castle.
Below is Tom Cruise's excited interview with Oprah, when he showed the world how he first felt about Katie Holmes:
Tom Cruise and Katie Holmes Getting a Divorce