Tom Hanks Reveals He's an Ordained Minister While Crashing Couple's Wedding Photo Shoot (Watch)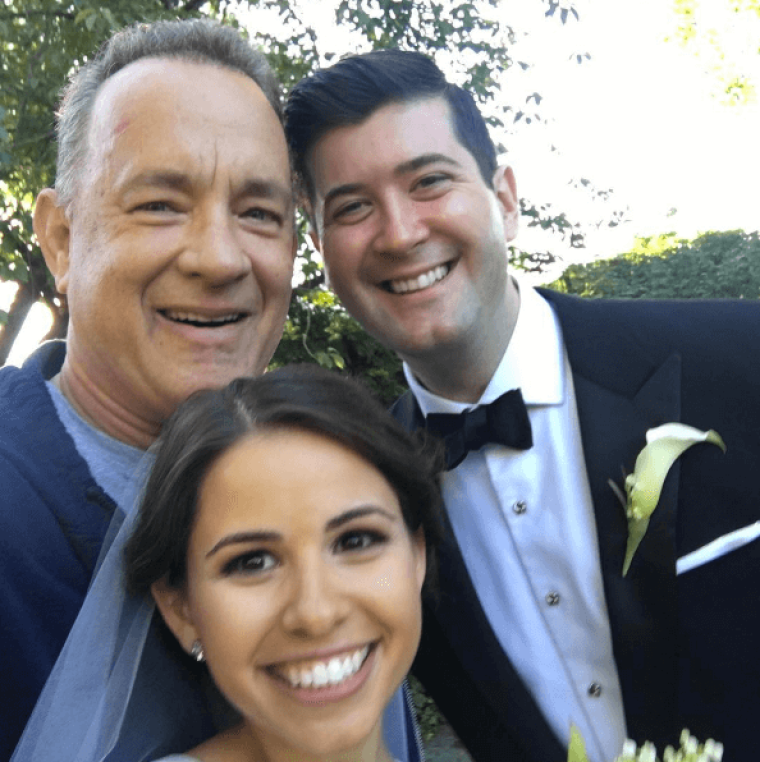 A-list actor and filmmaker Tom Hanks made a couple's wedding day very special last week when he took a detour from his jog through Central Park to congratulate the bride and groom while they posed for their wedding photos.
The "Sully" actor crept up behind the love birds and surprised them as they posed for a photo. Hanks shook their hands, kissed the bride, asked them for their names and then posed for a few pictures with them.
"Ryan, you're a lucky man," Hanks told the Groom. "Elizabeth, you're a lucky woman."
They newlyweds invited the Academy Award-winner to their reception but he respectfully declined, instead he offered to marry them if for any reason their minister did not show up.
"I am an ordained minister, if the guy cancels just let me know," Hanks joked.
He later posted a selfie of himself with the couple and wished them many blessings.
While most Americans didn't know Hanks was an ordained minister, he has in the past talked about his faith in God. Hanks said in an interview with Scripps News that members of his family identify as Mormon, Catholic and Nazarene, and he characterized himself as being a "Bible-toting evangelical" for several years as a teenager.
"The church does feed the poor. It does take care of the hungry. It heals the sick. I think that the grace of God seems to be not only in the eye of the believer, but also in the hands of the believer," he's quoted saying.
After marrying Rita Wilson, Hanks converted to the Greek Orthodox Church, the religion of Wilson and her family.
Hanks continued, "I must say that when I go to church — and I do go to church — I ponder the mystery. I meditate on the 'why?' of 'why people are as they are' and 'why bad things happen to good people,' and 'why good things happen to bad people.' … The mystery is what I think is, almost, the grand unifying theory of all mankind.
His wife of 28 years says these days she prays all the time.
"I pray everyday. I'm Greek Orthodox, I pray everyday. My children pray, I pray with them, I pray for myself, we go to church. We try to live a good clean healthy life and it helps," Rita told reporters in previous interview. "God is a big part of my life. I prayed to God everyday that He would bring me somebody that I loved, that loved me in the same way and He brought me Tom, so I believe in that."
 "God is mysterious, God works everyday," Hanks added.
Follow Jeannie Law on Twitter:
@jlawcp