Tracy Morgan on Accident: God Told Me 'Your Room Ain't Ready'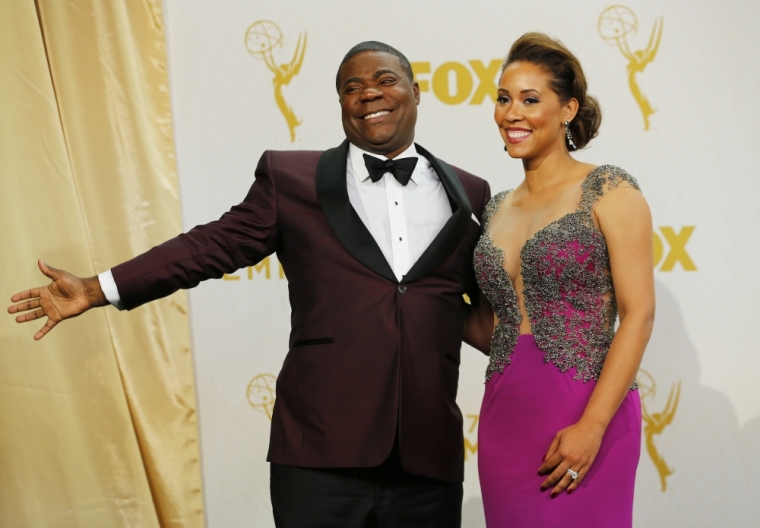 The world waited and prayed as comedian Tracy Morgan fought for his life after being involved in a deadly vehicle crash in June 2014 that left him in a coma. He has since fully recovered and is now talking about what he heard God say to him.
"I went to the other side," Morgan told Complex magazine during an interview published Tuesday. "This is not something I'm making up. Do you know what God said to me? 'Your room ain't ready. I still got something for you to do.' And here I am, doing an interview with you."
Morgan was critically injured last summer when a Walmart tractor-trailer ran into the comedian's Mercedes limo bus, which had been returning from a stand-up comedy show in Delaware. The vehicle was carrying seven passengers, one of which was also critically injured and flown to the same hospital as Morgan. Comedy writer James McNair, 62, died at the scene, according to authorities. Morgan's limo driver was unharmed.
The 47-year-old New Yorker was left with a brain injury from the horrific crash and spent two weeks in a coma. While in the state of unconsciousness the actor revealed to Complex Magazine that God spoke to him.
When asked if he was returning to normal, the "30 Rock" star said, "You're never going to be normal after you go through something like that. You don't die for a few weeks and then come back to normal, trust me. Something's going to be missing, something's going to be gained — you just got to live your life after that. But after surviving something like that, I'm probably never going to feel normal."
Shortly after the tragic accident people across the nation began to offer their prayers and condolence. Morgan, who was a "Saturday Night Live" cast member from 1996 to 2003, made a triumphant return to "SNL" last month and described how special it felt to be back.
"There was so much goodwill and I felt that energy, like, 'Yo, we happy you alive!' It wasn't like they were looking for laughter, no. 'We just happy you alive and you're here walking.' And that made it special for me. I just want to give it back through my sense of humor," he said.
After Morgan's limo bus was hit by the Walmart tractor-trailer, onlookers driving past the accident prayed for God's help as people worked to save those injured. TMZ shared a video clip of the accident in which a woman is heard fervently talking to God.
"Oh God, help them Lord help them. ... May they be alive. Help him God, Help him God. My Lord, My Lord may he be alive," the woman prayed in Spanish while at the scene.
Morgan was at the prime of his career when the Walmart tractor trailer hit his limo. The driver, Kevin Roper, allegedly hadn't slept for over 24 hours when the accident occurred on the New Jersey Turnpike. The fatal accident killed McNair, Morgan's friend and colleague who's best know as Jimmy Mack, and injured Morgan, Jeffrey Millea, Harris Stanton and Ardie Fuqua.
"Just living my life, man. When the sun's up, I try to get it on and poppin.' When the sun is up, I try to make it happen. That's what I'm doing, whatever it is! I'm going to do it until I'm satisfied," he noted..
Morgan goes on to talk about his upcoming projects and shared some of his childhood memories. Click HERE to read the full Complex interview.