Trump Counselor Kellyanne Conway: Feminism Is 'Anti-Male,' 'Pro-Abortion'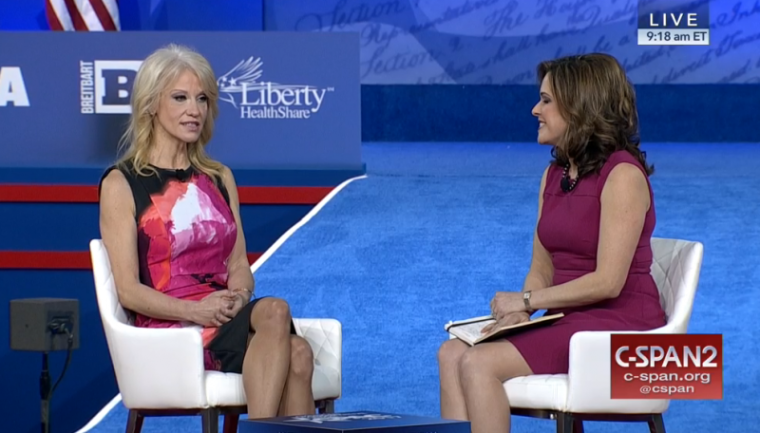 White House Senior Counselor Kellyanne Conway says that she does not consider herself to be a feminist "in the classic sense," viewing the label as "anti-male" and "pro-abortion."
Conway, who made history as the first woman to run a successful presidential campaign, spoke with Washington Times columnist Mercedes Schlapp on Thursday morning at the main stage for the Conservative Action Political Conference.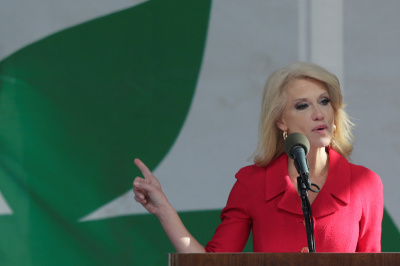 When Schlapp asked her about views on the Women's March on Washington and the concept of "conservative feminism," Conway replied that she did not consider herself a feminist.
"For me, it's difficult for me to call myself a feminist in the classic sense because it seems to be very anti-male and it certainly is very pro-abortion in this context and I am neither anti-male or pro-abortion," said Conway.
"There's an individual feminism, if you will, that you make your own choices ... I look at myself as a product of my choices, not a victim of my circumstances."
Conway also told Schlapp about her upbringing in an all-woman household, wherein the term feminist was not used even though she was raised "to be free-thinking, independent, [and] to look at your goals."
"Women in this country work so hard and not all of them get their shot and I feel like I worked hard but I also got my opportunity, which puts me in a different category of blessings," noted Conway.
"I was raised to be a very strong and independent woman without anybody ever saying the word 'feminist' or having a political conversation."
Conway's remarks were part of the annual multiday CPAC event, held at the Gaylord National Resort and Convention Center in National Harbor, Maryland.
Other notable speakers scheduled for the event include President Donald Trump, Vice President Mike Pence, Senator Ted Cruz of Texas, and Republican National Committee Chairman Reince Priebus.
Conway is not the first pioneering woman to reject the feminist label. Margaret Thatcher, the first female prime minister of the United Kingdom, was known for disliking the term, at one point declaring "I owe nothing to women's lib."
"She wasn't a feminist. All that line of argument left her cold," recalled Thatcher ally Lord Hurd to the UK Telegraph following the former prime minister's death.
"[The Conservative Party] didn't look around for a woman at all. They looked around and they found Margaret Thatcher, because she was needed at the time."