Trump's New Religious Freedom Amb. Praises Islamic Scholars in First Public Speech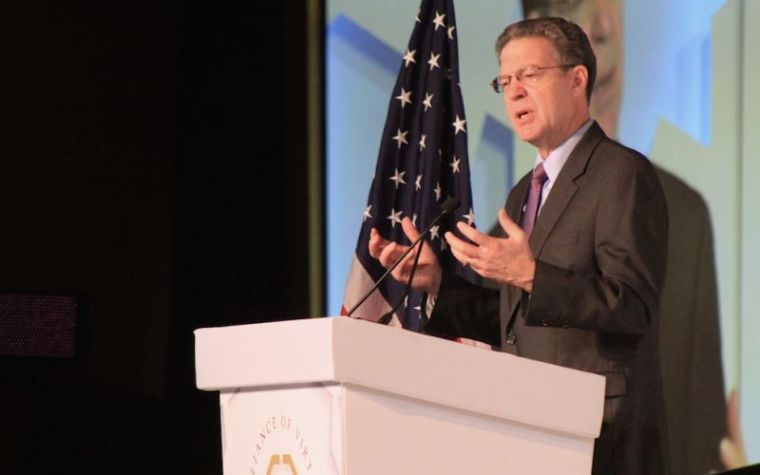 WASHINGTON — The newly confirmed U.S. State Department Ambassador-at-Large for International Religious Freedom, Sam Brownback, made his first public appearance in his new role Tuesday as he spoke to over 300 interfaith leaders gathered to promote respect for Muslims in American society.
Brownback, the 61-year-old former governor of Kansas who was sworn in last week as the head of the State Department's International Religious Freedom Office, gave an address to Muslim, Jewish and Christian leaders gathered for the "Alliance of Virtue" conference held this week in anticipation of the unveiling the new "Washington Declaration."
The declaration, which will be signed on Wednesday, is a statement affirming the rights of religious minorities across the world and also calls for respect for Muslims living in the United States.
"I am delighted to be here and I really can't think of a better place to be for [my] first speech, this first gathering than what you are doing," Brownback said in his introduction.
Tuesday's conference at the Marriott Marquis was hosted by the Forum for Promoting Peace in Muslim Societies, which is headed by Shaykh Abdullah Bin Bayyah, a professor of Islamic studies at the King Abdul Aziz University in Jeddah, Saudi Arabia. The Washington Declaration will build upon the January 2016 Marrakesh Declaration, which was signed by over 350 faith leaders and heads of state from over 60 countries calling for the protection of religious minorities in Muslim-majority populations.
"I think religious freedom is the most important foreign topic today — the most important foreign relations topic today. I say that as one who has served on the Foreign Relations Committee in the United States Senate and the House of Representatives and a foreign relations appropriator and somebody who has served in public life for 30 years," Brownback told the audience. "This is the big one. It's big because it so encompasses so much of what need in the world, which is peace. It encompasses all the people in the Earth. This is what people desire. They seek to live honorable, peaceful lives. We got to be able to get this issue under control. We need to get this issue and agree upon it and move forward."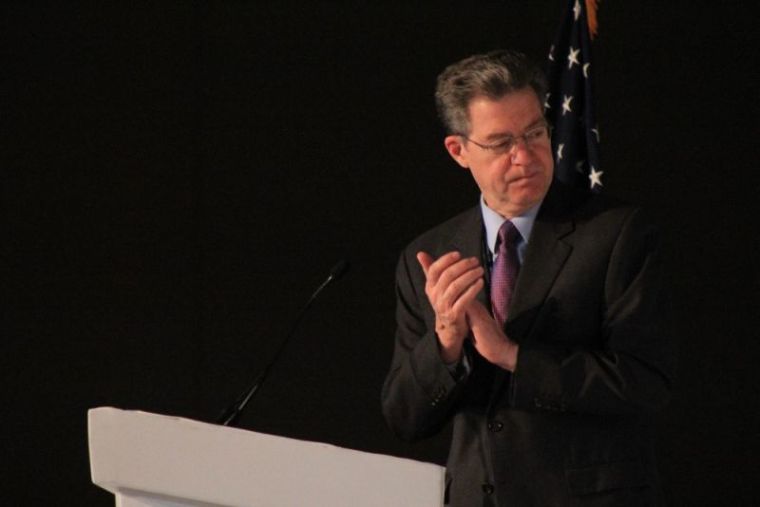 Brownback told the faith leaders that they are in a unique positions to advance the cause of religious freedom within their communities and congregations in ways in which governments are not able. Brownback thanked the faith leaders for advancing religious freedom in parts of the Muslim world in which they risk their own lives and safety and also incur great political costs advocating for the rights of minorities.
"The world needs reconciliation. It needs it between the Abrahamic faiths and these are your efforts here today," Brownback said. "The Marrakesh Declaration initiative of Shaykh Bin Bayyah and all of his partners in the global Islamic scholarly community is a great example of how civil society leaders can play a tremendous role in helping to set the tone for protecting the human rights, including those relating to citizenship of religious minorities. It's not only a tone, but a theological basis that it can exist with."
As Brownback gets acclimated to his new role, he told the faith leaders that he will be looking to them for their insight in how to promote peace and "interfaith harmonies" and to also identify the challenges that "stand in the way of people being able to live their lives in accordance with their conscience."
"Most importantly, I will seek your guidance on how the U.S. government can be more effective in promoting international religious freedom in all corners of the globe," Brownback added.
Brownback assured that the U.S. government will do all it can to ensure that "positive initiatives" promoting international religious freedom, such as the Marrakesh Declaration and the Washington Declaration, are "encouraged and protected."
"This administration has made clear that this is a foreign policy and a national security objective," Brownback said. "I look forward from you on how we can collectively and collaboratively achieve this shared objective."