Turkey's President Erdogan Seeks Donald Trump's Help to Defeat ISIS in Syria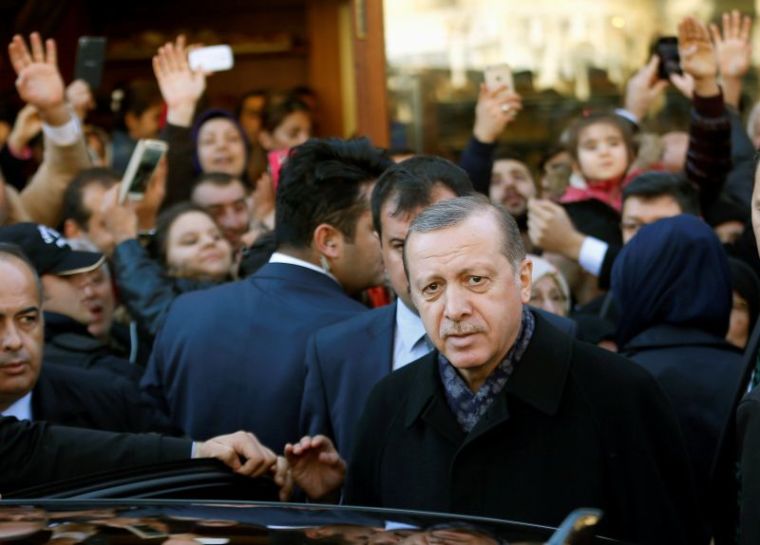 Turkey on Monday called for aerial support from the U.S.-led international coalition in its fight against Islamic State in al-Bab near the Syrian border and also promised to extend the scope of the fight to the terror group's de facto capital Raqqa provided President-elect Donald Trump's administration restricts Kurdish forces from participating in the efforts.
"The international coalition must carry out its duties regarding aerial support to the battle we are fighting in al-Bab," Turkish President Recep Tayyip Erdogan's spokesman, Ibrahim Kalin, said at a press conference, according to Reuters. "Not giving the necessary support is unacceptable."
Turkey-backed rebel groups have laid siege to the Syrian town of al-Bab for a few weeks.
Erdogan also said Monday that his country is willing to extend its fight against the Sunni terror group to Raqqa if Trump agrees to block Kurdish forces from participating.
The Kurds in Turkey have been seeking autonomy in a portion of land, and therefore Turkey fears that Kurdish gains in neighboring Syria could strengthen the "separatists" at home.
"We will not allow the formation of a new state in northern Syria," Bloomberg quoted Erdogan as saying.
Erdogan also vowed to retake Manbij, which was seized by Kurdish forces from Islamic State. "After Manbij, Raqqa is next if we can join hands with the U.S.," he added.
Meanwhile, Turkish Foreign Minister Mevlut Cavusoglu endorsed Russian President Vladimir Putin's efforts to initiate Syria peace talks in Kazakhstan under a deal that would involve Turkey and Iran, but not the United States and the U.S.-backed Syrian opposition.
In August, Ankara blamed the U.S. for anti-American sentiment among Turks, saying it coould be calmed only by Washington extraditing the Muslim cleric Turkey accuses of orchestrating July's failed coup.
In January, the Turkish army bombed the Iraqi border village of Sharanish, home to many Christians, Chaldeans and Assyrians, under the supposed pretext of its ongoing war with the Kurdish PKK.
Tensions between Turkey and Islamic State in Syria have increased in recent weeks.
Islamic State, also known as IS, ISIS, ISIL or Daesh, released and circulated a new video over the weekend purportedly showing two uniformed Turkish soldiers being forced to crawl and then burned alive in northern Syria. In response, Turkey blocked social media sites in the country.
The 19-minute video shows the soldiers, their heads shaven and their uniforms apparently doused in fuel, being hauled from a cage before being bound and torched in a desert, according to Al Jazeera, which also said the footage was supposedly shot in the Islamic State-declared "Aleppo Province."
The video begins with footage showing IS fighters on the ground. The killer of the two soldiers later criticizes Erdogan, and calls for "destruction to be sowed" in Turkey.
The U.S.-led coalition recently intensified its fight to help Iraqi and Kurdish forces retake IS strongholds in Mosul, Iraq, and also Raqqa. It released 3,038 weapons in October and 2,709 in November, according to the Air Force Times, which also said that those 5,747 weapons released represent the coalition's busiest two-month stretch against IS in 2016.
IS is using locals as human shields in Mosul, which is delaying the retaking of the city.