Two Christian Coptic Girls Disappear in Upper Egypt, Muslim Youth Believed Responsible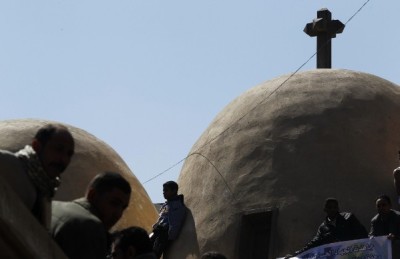 Two Coptic Christian girls have disappeared under mysterious circumstances in the Minya village of Ezbet Ayoub in Upper Egypt. The families of the two girls have accused two Muslims of inciting them to leave home.
The girls' fathers submitted two complaints to the police station Thursday, about the disappearance of 18-year-old Hana Nemr Gad and 17-year-old Erine Samir Naguib. The complaints accused two Muslim youth of using the girls' emotional relationship with them to lure them out of their houses.
The girls' fathers, Nemr Gad Saad and Samir Naguib Guirguis, said that the girls went to school Wednesday, but did not return home. They said that neighbors and relatives had no information regarding their current whereabouts.
Mohsen Saad Gad, fiancee of Hana Nemr, told MCN that they were all shocked that the girls did not return from school. Gad said he spoke with the residents and one told him that two Muslims had been following the girls and begun harassing them as well.
They then issued a formal complaint, and gave formal testimonies to the local authorities, in the hope they would investigate the two men on charges of kidnapping.
The families have warned that they will soon stage a sit-in in front of the governorate building if their daughters are not found.
Gad told MCN that there were no issues at home with the girls, and that he and his fiancee had just spent the previous day visiting the Al-Muharraq Monastery of the Virgin Mary in Assiut.
Gad said this rules out any doubt that the girls left of their own will. He added that in accordance with the law these girls must be found and returned to their families.