Tye Tribbett, JJ Hairston Get Candid About 'Bloody Wins' Ahead of Star Studded Tour (Interview)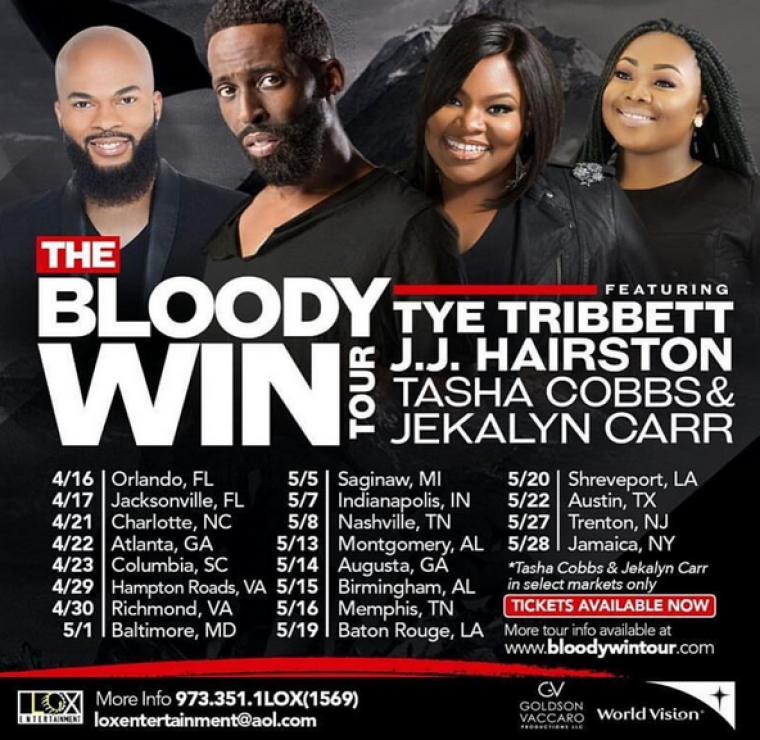 The latest gospel music tour sweeping the nation isn't showcasing Christianity in a simple package of praise and worship. The "Bloody Win" tour aims to guide people through life's bloody battles that result in victories.
Tye Tribbett, the singer-songwriter, television personality and preacher, believes the "Bloody Win Tour" he's embarking on with fellow gospel music powerhouse performers JJ Hairston, Tasha Cobbs and Jekalyn Carr is the most aggressive tour he has ever done.
"I feel like the energy is really aggressive and I feel like it's not really time for passive Christians. It's time for us to take it by force," he told The Christian Post. "The title 'Bloody Win' is provocative and that's on purpose. The whole spirit of the whole night will be aggressive victory."
When the music stops and people leave the show, Tribbett said he expects them to feel empowered to conquer trials in their lives.
"Everybody is going to leave knowing that they're more than a conqueror," he said. "We want them to leave empowered and go forward knowing without the shadow of a doubt that they've already won even the situation that they're still in. That's my intent."
According to Tribbett, a bloody win is the type of victory that people earn after fighting difficult battles that result in painful wounds and scars. He used the fictional character Rocky Balboa from the "Rocky" film franchise to further illustrate the concept.
Even when pugilist Rocky was declared the victor in his bouts, he was often severely wounded when the final bell rang to end the fight.
"Here is the champion but let's look at him. His eye was swollen shut, blood was coming out of his eye, his ribs were crushed," Tribbett said. "Sometimes that's what winning looks like. We feel like as believers when we take hits we take it in the loss category. But sometimes hits are in the process of victory."
Hairston, the singer-songwriter, leader of the Youthful Praise choir and owner of the JamesTown Music record, added on to Tribbett's point in a joint interview with CP.
"It doesn't feel like you won," he said. "You have the scars and bruises but you still have the victory."
The concept for the tour came about when Tribbett and Hairston came together at a mutual friend's wedding. Both gospel musicians have been through their own bloody victories and knew God called them to help others do the same.
For Hairston, one of the toughest moments in his life took place when his mother was diagnosed with cancer. While he was praying and believing God for a miracle, his mother died in 2014.
It was hard to see how one of the toughest losses in his life could be deemed a victory. In that season, Hairston wrote the popular song "After This" which touched the lives of others seeking God for a breakthrough.
"We were believing God for certain types of victories that we did not get. I was knocked down for a minute," Hairston told CP. "Then I started doing radio interviews and stuff like that after the CD released, and cancer patients were emailing me and coming to concerts telling me that 'After This' was the song they played when they were going through their chemotherapy."
Hairston was suffering from the pain of his mother's death, but he was also using those painful experiences to help save others.
"So, even though my personal victory was not there, it helped so many people get to their own victory. God used what I was going through to help other people," he said. "So even though I didn't feel like I won, it was a win not just for me. It was a win for all of us."
Tribbett hasn't been exempt from his own share of bloody wins. One of the most poignant was when his preacher father and first lady mother unexpectedly divorced in 1999.
"When they divorced it was like, what? Everything I thought was true was fake," he revealed. "I didn't go to church anymore. It knocked the spirit out of me."
The same way that Tribbett was able to lean on God to overcome the tough time, he wants to help people do the same on his tour.
"I want everybody to leave knowing without a shadow of a doubt that they've already won even though they're going home to face the same issues," he said. "So, the whole night really, this is what's different for me."
A number of powerhouse gospel music stars will stand alongside Tribbett to aid in that mission. While taking a break from tour rehearsals, the pair joked with CP about assembling a supergroup reminiscent of The Justice League from DC Comics or the X-Men from Marvel Comics.
"You know, Tye is like Superman standing in front because he's the guy that's going to fly in and make everybody do what they need to do. I would call myself Batman because I got some things in my arsenal that take you by surprise," Hairston told CP. "I don't know if you want to call Tasha Wonder Woman because, you know, Wonder Woman may not be as aggressive as Tasha is. Jekalyn would probably have that Wonder Woman [title] because she's classy but she is powerful and effective."
He went on to add, "We definitely have a Justice League, X-Men type of tour going on. It's going to be crazy."
The Bloody Win tour kicked off on Easter Sunday in Orlando, Florida. For more information  visit the Bloody Win Tour.