U2 Turns Whole Audience Into Gospel Choir on 'Jimmy Kimmel Live' (Video)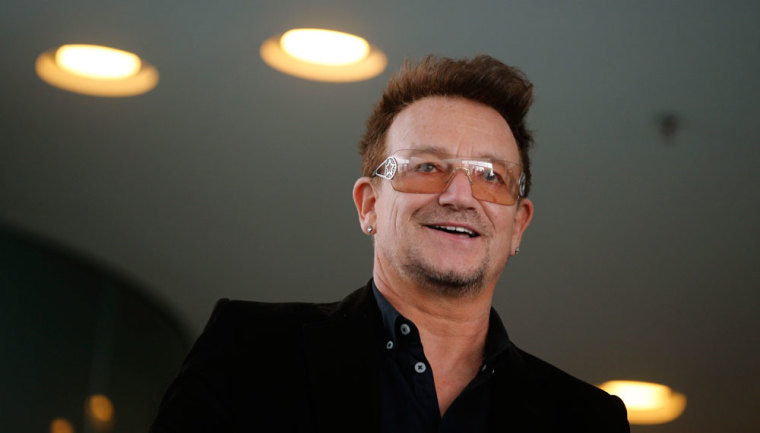 U2 remembers Manchester victims and leads the whole audience at "Jimmy Kimmel Live" in a gospel rendition of their popular song, "I Still Haven't Found What I'm Looking For."
Since the Dublin natives are just an hour plane ride away from Manchester, England, Kimmel decided to ask U2 about the recent terror attack that took place after an Ariana Grande concert in a Manchester Arena.
"They hate music. They hate women. They even hate little girls," frontman Bono said in response. "They hate everything that we love. And the worst of humanity was on view in Manchester ... But so was the best, as people took perfect strangers into their houses and queued up for blood banks. Manchester has an undefeatable spirit, I can assure you."
Towards the end of the interview the legendary group began talking about their 1987 album The Joshua Tree and it's unforgettable visuals. While talking, a backdrop was wheeled out on stage and they began a surprise performance of "I Still Haven't Found What I'm Looking For."
"We want to play for you now a gospel song with a restless spirit," Bono introduced the song, which included an accompaniment of a choir comprised of different audience members planted throughout the studio.
"Take it to church now," Bono shouted mid performance.
"He will lift you higher and higher/ He will lift you up when you call/ He will bring you shelter from the storm/ I believe in the Kingdom Come/ Then all the colours will bleed into one/ Bleed into one/ But yes, I'm still running/ You broke the bonds/ And you loosed the chains/ Carried the cross of my shame/ Oh my shame, you know I believe it," they sung
The audience all stood up and happily joined in on the gospel performance as it ended.
Bono has not shied away from sharing his faith and how it's played a role in tragedy. In part 5 of a recently released video series with David Taylor, a theology and culture professor at Fuller Theological Seminary in Pasadena, California, the U2 frontman discussed mortality, his pilgrimage to Jerusalem, and how God's love filled a void in his heart after his mother's death.
"I became an artist through the portal of grief," Bono told Taylor. "My mother died at her own father's gravesite. As he was being lowered into the ground she had an aneurysm. I was 14."
Bono sadly expressed that his mother left him at a tender age but said that he's grateful she left him "an artist."
"I began the journey trying to fill the hole in my heart with music, with my mates, my band mates. Finally, the only thing that can fill it is God's love, it's a big hole but luckily it's a big love," the 57-year-old said.
In the video series Bono further discusses "unlocking" artists of faith, the relationship between Christ's ministry and themes of justice in the Psalms, and the "brutal honesty" of the Psalms.
For additional resources on the Psalms project with Bono, visit FULLER studio.