UK Christian Music Festival Head Defends Inviting Pussy Riot Despite Being Branded 'Sacrilegious'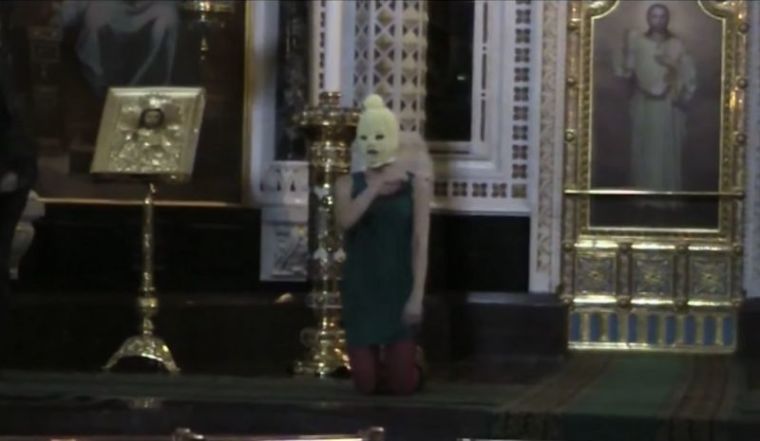 The organizer of a Christian music festival has defended the decision to invite protest group Pussy Riot to perform, despite it being branded "sacrilegious" by the Russian Orthodox Church.
Paul Northup, who runs the August Greenbelt festival in the U.K., argued in an interview with Premier on Thursday that the group should not be considered offensive by Christians despite their disputes with the Russian church.
Pussy Riot is primarily known for its feminist and anti-authoritarian protests of Russian President Vladimir Putin, both in their music videos and also at various events, which have led to the arrests and imprisonment of some of the band members.
Members, who usually wear balaclava masks, were also arrested after breaking into Moscow's Cathedral of Christ the Savior in February 2012 and staging an illegal performance.
The group explained that it was targeting Orthodox clergy for their close ties with Putin, The Guardian noted at the time. The church, however, branded their actions as "sacrilegious," while thousands of Russians rallied in prayer and support for the church.
Patriarch Kirill, leader of the Russian Orthodox Church, said at the time that the punk performance is part of a broader attack against the church from "enemy forces."
Greenbelt, which began in 1914 as a Christian music event, explains on its website that it is "energized by a progressive Christian worldview."
Northup says that he believes Pussy Riot's explanation for why they staged the controversial performance at the Cathedral of Christ the Savior.
"It's an easy thing to say — to just go along with the government's line that they were arrested for inciting religious hatred," he argued.
"What they were trying to do in that initial punk prayer protest in the Cathedral in Moscow was call out truth to power — they objected to the way the established church in Russia was in cahoots with and in bed with the power and the patriarchy of Putin's regime."
When asked by Premier whether the band members were motivated by anger against the church, he responded:
"In our dealings with them, and conversations with them and skype calls and emails, that's not what comes across at all."
Northup further revealed that one of the Pussy Riot members "would call herself a Christian," and at one point was even arrested in Moscow for reading out the beatitudes.
"If you look at the soundbites and the headlines I can understand people rushing to judgment," the Greenbelt organizer said.
"We're not doing something which is like all of the other wonderful Christian events and conferences up and down the country — we're trying to do something that's different. At times it looks a little bit edgy and risky on paper but people who come will feel very, very included and welcome and I think they'll feel really inspired as well."
Greenbelt's line-up for the four-day festival in Northamptonshire, which begins Friday and is expected to draw 10,000 people, includes musicians and speakers from different backgrounds, including theologian Paula Gooder, John Bell, Father Nadim Nassar and speaker Anthony Reddie.