Ukraine Protests and Riots News: Tens of Thousands Face-Off With Violence Reported in Crimea
Ukraine has seen tens of thousands take part in protests and riots across the country as rival groups protested over Russia's occupation of Crimea.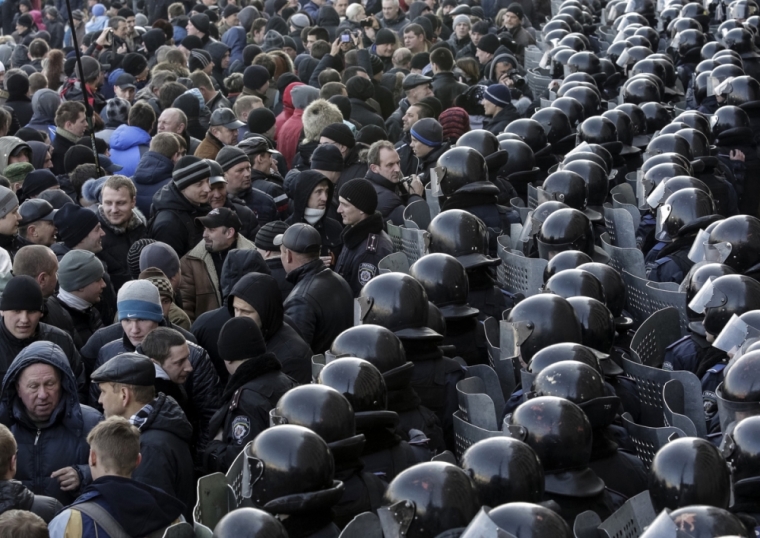 Thousands attended rallies with some even turning violent after pro-Russian activists attacked a protest on the Black Sea peninsula. Pro-Russia supporters were reported to have beaten up a number of opponents rallying for unity in Sevastopol, Crimea on Sunday.
There were also violent riots in the eastern city of Luhansk, where pro-Russian activists took control of regional offices, forcing the governor to resign.
With the region set to vote to secede next week, European leaders have been trying to open lines of communication with Russia to urge President Vladimir Putin to pull back from Crimea.
Leaders from the United Kingdom and Germany spoke to Putin, requesting that he rein in his soldiers from the Ukrainian region.
German Chancellor Angela Merkel has called the vote planned for next Sunday as "illegal," explaining that the vote would violate both Ukraine's constitution and international law.
Meanwhile, British Prime Minister David Cameron spoke to Putin on Sunday and asked that he "de-escalate the situation in Ukraine and to support the formation of a contact group that could lead to direct talks between the governments of Russia and Ukraine."
British Foreign Secretary, William Hague, also said on Sunday that if Russian troops moved beyond Crimea then it would spark "far-reaching trade, economic and financial consequences'' and ''bring the great danger of a real shooting conflict."
Putin has been resolute on his course of action though and has insisted that Russia has the right to protect its interests in the region, and that he merely was protecting the rights of ethnic Russians in Crimea.
Tens of thousands of pro-unity and pro-Russian supporters have protested over the weekend, with some holding placards that portrayed Putin as Hitler for his seeming attempt at re-drawing the national boundaries of Europe.
Meanwhile, Ukrainian Prime Minister Arseniy Yatsenyuk has pledged not to give a "single centimeter" of Ukrainian land to the Kremlin. Although Ukraine's Defense Minister has said that authorities in Kiev have no plans to send its army into Crimea, which would almost certainly escalate tensions and could result in bloodshed.