'Unbroken' Review: Angelina Jolie Is Respectful of War Hero Louis Zamperini's Story Despite Glossing Over His Christian Faith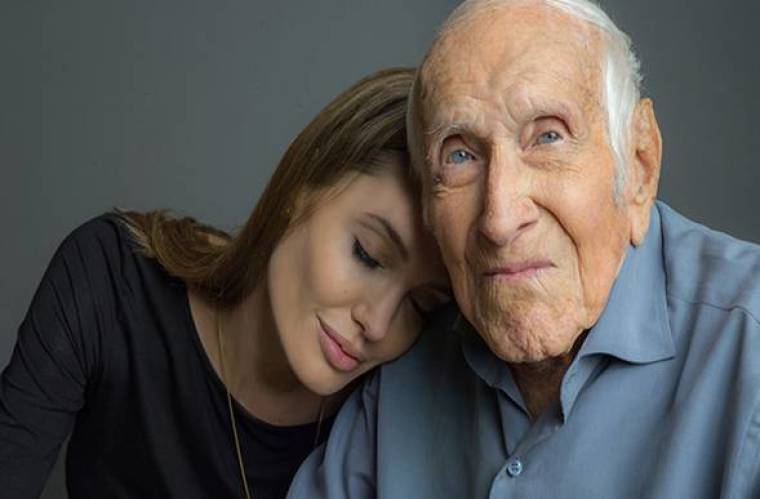 OUT OF 5 STARS: 3
"Unbroken"
Rated PG-13 (Contains violence, some coarse language and brief nudity)
Running Time: 137 minutes
Opens: Thursday, October 25
Jack O'Connell, Miyavi, Domhnall Gleeson
Directed by Angelina Jolie
Louis Zamperini's extraordinary life story is cautiously retold in the dark yet compelling motion picture "Unbroken" and the Angelina Jolie-directed World War II POW drama, though flat at times, is sure to inspire.
The handsomely packaged $65 million film is based on Laura Hillenbrand's best-selling book Unbroken: A World War II Story of Survival, Resilience, and Redemption and Jolie holds her own three years after her solid directorial debut "In the Land of Blood and Honey."
In the beginning, captivating scenes of aerial warfare followed by an agonizing 47 days in a raft at sea speak to the heart of Zamperini's impossible journey. Lead actor Jack O'Connell ("This Is England") takes on the emotional role of the late war hero with conviction and Roger Deakins (cinematography) authentically brings each of these moments to life.
Zamperini, who died of pneumonia at age 97 on July 2, endured a number of horrendous ordeals throughout his life, including surviving in a raft in the Pacific Ocean for 47 days after a near-fatal plane crash. He also endured unspeakable torture at the hands of the Japanese navy after being sent to a P.O.W. camp.
The faith and forgiveness themes, which made the devoutly Christian Zamperini's real life story so great, are not exclusive to Christianity in the film, but Jolie manages to evoke feelings of hope, redemption and inspiration without delving deeply into religion. While some will perceive Jolie's universal approach to faith as effective, the academy award-winning actress' otherwise polished film-making skills also invite criticism for the glossing over of Zamperini's Christian faith.
Jolie's casting of Miyavi as Mutsuhiro "The Bird" Watanabe was undoubtedly her best, though the Japanese rock star had never acted before. Although the scenes where O'Connell is subject to brutal torture at the hands of his Japanese captors are a little too heavy at times, a handful of scenes offering comedic relief help break up the gloom.
Though a little stretched – at 137-minutes the film is longer than your average and this doesn't go unnoticed -- the family-friendly film about the power of the human spirit makes sense politically and culturally, particularly in the wake of global terrorism and civil unrest.
"Unbroken" is sure to trigger a whirlwind of emotions and leave you with a new found respect for war veterans.