US Episcopal Church Loses Nearly 35,000 Members in 1 Year
US Episcopal Church Loses Nearly 35,000 Members in 1 Year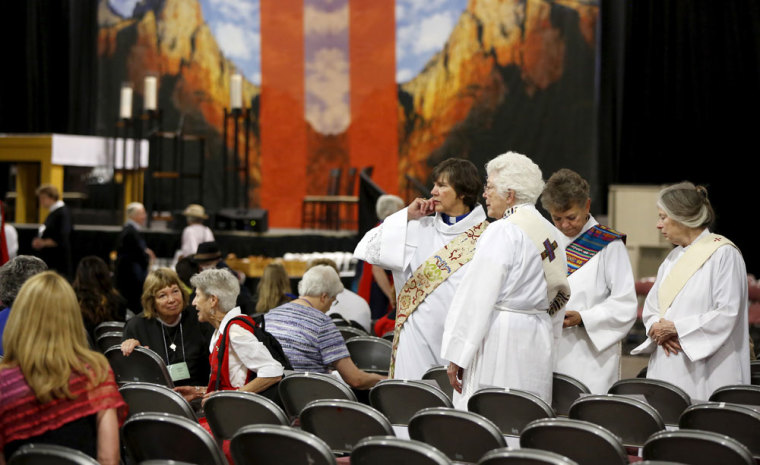 The Episcopal Church in the U.S. lost nearly 35,000 members last year, according to figures released this week by the denomination which has been on a decline for about a decade.
The number of active members of TEC decreased by 34,179 in 2016, according to the statistics released. In 2015, the denomination lost 37,669 members. The average Sunday worship attendance also decreased by 9,327 last year.
"The 2016 data reflects a continuation of recent trends, although rates of decline in such key figures as Average Sunday Attendance have decreased," Canon Michael Barlowe, executive officer of TEC's general convention, says in the report.
However, the figures note that the rate of decline is slowing, and, "Overall, congregational income through pledges and other offerings has remained constant."
Over the last 10 years, the average Sunday attendance has fallen by a quarter, leading to the closing down of 37 parishes in the last year. TEC now has 6,473 congregations across the country.
One factor in the decline was the liberal theological direction of the denomination, including its growing acceptance of homosexuality and gay marriage. In 2003, when it appointed its first openly gay bishop, the Rev. Gene Robinson, scores of congregations left the denomination.
In a sermon in March, Bishop Maryann Budde from the Diocese of Washington acknowledged the decline.
"There's no doubt in my mind that the Jesus Movement is alive and well in the Diocese of Washington. I cannot say the same about the Episcopal branch of the Jesus Movement in all of its expressions," she said, according to the Diocese of Washington's website. "And on my watch, I will do everything in my power, redirect every resource I can, examine every assumption about how we do things and why, in order to promote greater spiritual health, joy, and capacity for ministry throughout the diocese. That includes evaluating all that it costs the diocese for me to be part of the House of Bishops. I must evaluate my efforts, and ours, based on the fruits they produce."
TEC and the United Methodist Church are formally contemplating entering into "full communion," which would include recognizing each other's sacraments and ministries, within the next five years.
"It is called 'full communion' because it centers around bringing individual churches together around our celebration of the Eucharist," Kyle R. Tau, ecumenical staff officer for Faith and Order and Theological Development with the UMC's Council of Bishops, told The Christian Post in May. "Denominations do not merge together in a full communion agreement."
Tau added, "Yet while remaining structurally and organizationally distinct, the full communion agreement recognizes that through our mutual baptism and in the breaking and sharing of bread we are joined together in the one church of Christ."
According to Tau, the UMC is already in full communion with other Christian denominations, most notably the Evangelical Lutheran Church in America, the African Methodist Episcopal Church, and the Moravian Church.