US Megachurches, Hundreds of Christians Targeted in Ponzi Scheme?
SEC Tells How Ephren Taylor Allegedly Solicited Millions From Fellow Christians by Appealing to Their Faith
The U.S. Security and Exchange Commission (SEC) slapped Ephren Taylor, a businessman already facing civil lawsuits for alleged million-dollar financial fraud, with a federal suit in Atlanta, Ga., Thursday, revealing a major affinity fraud allegedly carried out by Taylor targeting mostly African-American church congregations.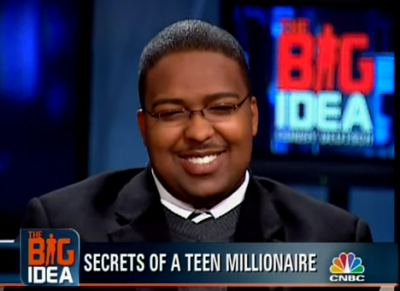 Eddie Long's New Birth Missionary Baptist Church in Atlanta, Ga., and Joel Osteen's Lakewood Church in Houston, Texas, were two out of at least five churches Taylor allegedly targeted in what the SEC estimates to be an $11 million Ponzi scheme. The alleged perpetrator also targeted "a number of Church of Christ churches" and some secular individuals via radio advertisement and other methods, SEC told The Christian Post Friday.
Taylor, 29, a charismatic entrepreneur, speaker and former CEO of City Capital Corporation, and the company's chief operating officer, Wendy Connor, were charged with soliciting the money from at least 350 people, SEC said. A great majority of these people had one thing in common – they were practicing Christians.
Taylor was targeting primarily church congregations, preying on their beliefs and emphasizing their common Christian heritage, appealing to their faith and convincing them that a portion of invested money would be spent on charitable causes and useful community projects, SEC believes. In fact, the money went into a grand pyramid scheme, as well as Taylor's personal usage, the agency alleges.
The SEC believes the scheme to be a typical affinity fraud – a kind of investment fraud that preys upon members of identifiable groups, such as religious or ethnic communities.
"This kind of schemes prey upon inherent trust," David L. Peavler, Associate Regional Director at the SEC's Fort Worth Regional Office, told CP. They are also particularly dangerous for potential victims because "if you're an investor and someone comes to you and they profess to believe the same things you do, or have the same background that you do, you may be more trusting that they are telling you the truth; that they have your interest in mind. And you might be less willing to ask questions," he said.
A "substantial number of victims" that the agency alleges were Taylor's primary target were churches, Peavler said. But that was not the sole group the scheme was aiming for, he added. The accused allegedly solicited from the general public through radio ads. "He [Taylor] went to secular, non-religion related seminars, where other investment professionals and other people were discussing investment strategy," Peavler told CP. He spoke there and would obtain investors from there, as well as through his Internet presence.
Taylor's credibility was apparently supported by his multiple media appearances and an impressive biography. He claimed to have been the "youngest African-American CEO of a publicly traded company" who started his first company at age 12 and "made his million dollars by the age of 16," according to an online advertisement recommending Taylor as a guest speaker. The ad points out that Taylor specializes in getting out of debt and starting a business "with limited resources," among other areas.
"Will you continue to stand by and let your church drown financially?" the advertisement reads. "It's time to take action now by hosting a financial empowerment seminar at YOUR CONGREGATION with Minister Ephren W. Taylor, II. Call (877) 367-1463 as dates are filling fast."
The phone number was out of service when CP dialed it Friday.
The ad also quotes multiple success stories of Taylor's endeavors, including "A Church in Deerfield Beach, FL [that] secured a $60,000 re-capitalization loan from Ephren's firm, saving the church from bank foreclosure."
Taylor's whereabouts are currently unknown. His last known residence was in New York City, and he failed to respond to multiple subpoenas, according to Reuters.
The attorney representing Wendy Connor, the COO at Taylor's company, did not return CP's message by press time.
The entrepreneur's company, City Capital Corporation (CTCC), founded in 1984, was described as "a socially conscious professional management and diversified holding company engaged in leveraging investments, holdings and other assets to build value for investors and shareholders." Currently, the company's website was not active.
Taylor has been described as a talented talker and a charismatic, intelligent-sounding personality with preacher-like qualities. He was known to have appeared as guest speaker at New Birth Missionary Baptist Church in 2009, and it was allegedly through being exposed to the congregation and endorsed by Pastor Eddie Long, that Taylor found his alleged victims there. Last October, 10 church members filed a civil suit against the megachurch pastor for allegedly influencing their decision to invest in the scheme. One of the alleged victims said at the time that she would not have invested any money at all in Taylor's (apparently illegal) company, had he not had Long's backing.
Taylor was slapped with two civil lawsuits at the time.
"He knew if he went to a Christian African-American and said, 'I can take your hard-earned investment money, and you're going to earn more money, but more importantly you're going to do good for your church and community,' that they would fall for it hook line and sinker," Cathy Lerman, a North Carolina attorney who filed one of the lawsuits, told The Associated Press at the time.
Taylor apparently reached out to Lakewood Church, the fastest-growing megachurch in the United States, in the same way he did with New Birth – through a seminar held at the church, as the agency was informed directly by one of the investors, Peavler said.
A Lakewood Church media representative said Thursday that the institution was unaware of the issue until notified by CP. The representative said the information is now being investigated by church officials.