Utah parent demands school library remove Bible, cites Jesus' words as 'pornographic'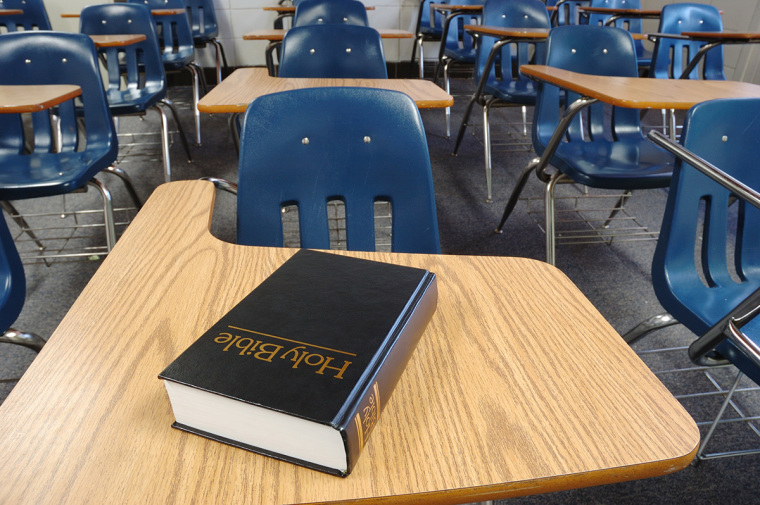 With a list citing verses from Genesis to Revelation, a Utah parent is calling for the Word of God to be removed from a high school library for being "pornographic."
A request filed on Dec. 11, 2022, with the Davis School District, located just north of Salt Lake City, calls the Bible "one of the most sex-ridden books around" and, therefore, violates Utah state code, The Salt Lake Tribune reported this week. 
According to a copy of the request obtained by The Tribune, which has since been taken down, the parent — whose name, address and contact information were not disclosed for privacy concerns — specifically asked for the Bible to be removed at Davis High School in Kaysville, about 15 miles north of Salt Lake City.
The parent also included with the request a list of more than 130 passages from Scripture that the parent described as offensive.
"Incest, onanism, bestiality, prostitution, genital mutilation, fellatio, dildos, rape, and even infanticide," the parent was quoted as writing in the request. "You'll no doubt find that the Bible, under Utah Code Ann. § 76-10-1227, has 'no serious values for minors' because it's pornographic by our new definition."
The code referenced in the request defines pornographic and harmful materials as those which include a "description or depiction of illicit sex or sexual immorality" or a "nude or partially denuded figure." 
However, the code notes that such definitions do not apply to any material with "serious literary, artistic, political, or scientific value for minors," which could likely include the Old and New Testaments.
In submitting the request, the parent referred to Utah Parents United, a conservative parental rights group that, in recent months, has challenged various books in school libraries under Utah's HB374. The statute prohibits "certain sensitive instructional materials in public schools."
HB374 was signed into law last March.
Some of the Bible verses referenced in the request include several laws for the people of Israel given to Moses at Mount Sinai, including laws regarding homosexuality (Leviticus 18:22), incest and bestiality (Deuteronomy 27:20-23), and sexual assault (Judges 19:22-29).  
The request also considers Jesus' words from Matthew 15 and Mark 7 as pornographic: "For out of the heart proceed evil thoughts, murders, adulteries, fornications, thefts, false witness, blasphemies."
According to the request, red-letter verses — denoting Jesus' words — from Revelation 2 are also pornographic: "But I have a few things against thee, because thou hast there them that hold the doctrine of Balaam, who taught Balac to cast a stumblingblock before the children of Israel, to eat things sacrificed unto idols, and to commit fornication."
The petitioner also claimed Utah Parents United is a "white supremacist hate group" seeking to suppress access to literature. 
"Ceding our children's education, First Amendment Rights, and library access to a white supremacist hate group like Utah Parents United seems like a wonderful idea for a school district literally under investigation for being racist," the complaint stated.
Davis School District spokesperson Christopher Williams told The Christian Post the district has received 81 requests to review books following the passage of HB374, including one request to review the Bible.
"At this point, it is also one of many that is in the process of being reviewed by a Sensitive Material Review Committee," Williams said via email.
"The process to review any book for possible removal from school libraries is time-consuming. However, parents, at any time, can request that their individual child not have access to specific books. Those requests have always been granted."
The challenge is expected to take roughly 60 days to complete from the original submission date.
Utah Parents United, meanwhile, called the complaint a "political stunt."
"It is clear from the petition that challenging the Bible was a political stunt. It has nothing to do with content in schools," the group said in a statement on Facebook. 
The war over book banning has grown increasingly heated in recent years. Last fall, the American Library Association claimed that efforts to ban or restrict books in school libraries are on the rise amid parents' concerns about sexually explicit material depicting child sex and pedophilia. 
Between Jan. 1 and Aug. 31, 2022, the organization said it documented 681 attempts to ban or restrict library resources, aimed at 1,651 titles; more than 70% of the attempts sought to ban multiple titles.  
According to the ALA, the ban attempts are "on track to exceed record counts from 2021," when 729 attempts were made that targeted 1,597 book titles. 
"The unprecedented number of challenges we're seeing already this year reflects coordinated, national efforts to silence marginalized or historically underrepresented voices and deprive all of us — young people, in particular — of the chance to explore a world beyond the confines of personal experience," ALA President Lessa Kananiʻopua Pelayo-Lozada stated. 
"Librarians develop collections and resources that make knowledge and ideas widely available, so people and families are free to choose what to read."
That backlash is due in large part to an increase in parents across the country who have complained about kids' access to sexually explicit materials in school libraries, including in Michigan, where parents — many from the Muslim community — pressured a Michigan school district to reduce students' access to certain books in school libraries.
Last September, another school district in Massachusetts faced backlash for promoting a book that taught students how to use online sex apps.
The book This Book is Gay by Juno Dawson was on display at a school within the Newburyport Public School District in Newburyport, Massachusetts.
The book informs readers that after they "upload a tiny pic of [themselves] to the app," the app "works out your location" and "tells you who the nearest homosexuals are." From there, users can "chat to them," with the book stressing that "because they are near, it's easy to meet up with them.