Vandals Wrap Dog Chain Around Mother Mary Statue in India, Remove Baby Jesus' Head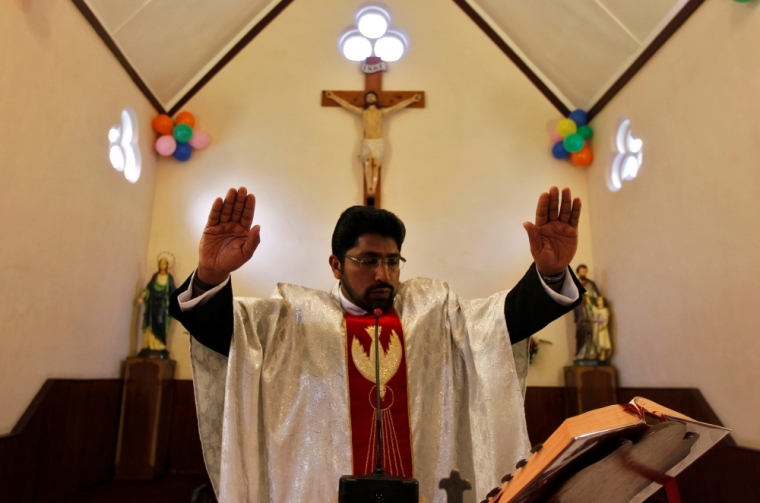 A new church attack has been reported in Agra, India, where vandals damaged four statues of Mother Mary, wrapped a dog chain around one of them, and removed the head of a baby Jesus statue.
"The intruders intended to hurt our religious sentiments as they placed the head of child Jesus Christ in the hand of Mother Mary and attached a dog chain to the neck," said Father Moon Lazarus, the head St. Mary Church, located in the Pratabpura area in the city of the Taj Mahal.
The attack is said to have occurred early in the morning around 3:30 a.m., according to Hindustan Times, with the window panes of the priest's car inside the church premises also being broken.
Lazarus revealed it was the car's alarm going off that woke him and led him to inspect the scene.
"Around 3.30 a.m. I heard the alarm of my car. When I came out, I found all four doors of the car open and the windscreen was smashed," the priest said, according to NDTV.
Christians in the city later took part in a silent protest against the latest act of vandalism on churches in the country.
"We appeal to both state government and the Centre to ensure the safety of minorities and send out a strong message to the anti-social elements behind these attacks," said Father Savarimuthu, spokesperson of the Delhi Archdiocese.
Senior Superintendent of Police, Rajesh D. Modak, visited the church following the attack and promised that action will be taken against the culprits.
Aseem Chaudhary, the Agra Sadar circle officer, added: "It seems to be handwork of someone with sick mentality … the culprits would be brought to book soon."
There has been a rising number of attacks against churches across India, including the capital of New Delhi.
Close to 200 Christian demonstrators were arrested in New Delhi in February for protesting against vandalism of Christian places of worship, and have argued that the government is not doing enough to crack down on religious violence.
Although they are growing in terms of numbers, Christians are a distinct minority in India, and often face hostility from extremist Hindu elements. Earlier this week, Sadhvi Deva Thakur, vice president of All India Hindu Mahasabha, suggested that Christians and Muslims in the country should be forcefully sterilized in order to control their growing populations.
"The population of Muslims and Christians is growing day by day. To rein in this, Centre will have to impose emergency, and Muslims and Christians will have to be forced to undergo sterilization so that they cannot increase their number," Thakur said.