Vatican Calls Pope Francis Sex Abuse Cover-Up Accusations by Archbishop 'Monstrous, Blasphemous'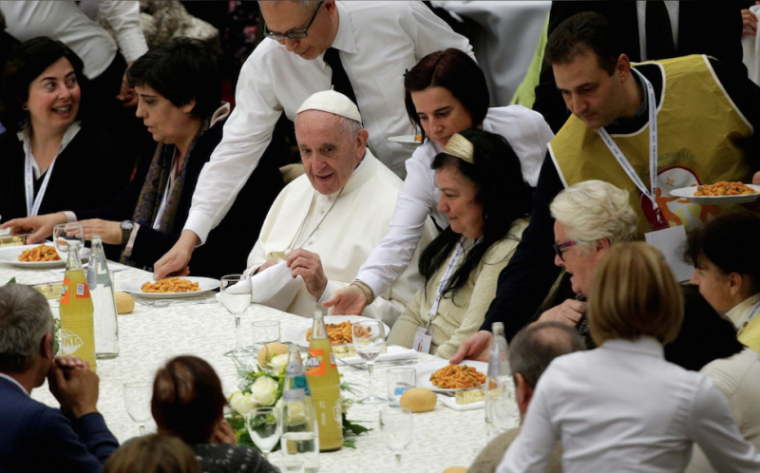 After months of silence, the Vatican has issued an official response to the accusations from a former top official that Pope Francis covered-up sex abuse in the church.
Cardinal Marc Ouellet, Prefect of the Congregation for Bishops, published on Sunday an open letter on behalf of the Holy See, where he refuted Archbishop Carlo Maria Viganò's allegations in August that Francis knew of abuse but covered it up.
"First of all, allow me to say to you with complete sincerity, by virtue of the good collaborative relationship that existed between us when you were the Nuncio in Washington, that your current position appears incomprehensible and extremely deplorable to me, not only because of the confusion that it sows in the People of God, but also because your public accusations seriously damage the reputation of the Successors of the Apostles," Ouellet declared at the outset.
Later on, he accused Viganò of "mocking and casting doubt" on Francis' faith, which he said seems to him to be "blasphemous."
"Such a thing cannot come from God's Spirit," he insisted.
In August, Viganò, who previously served as the Vatican's ambassador to the United States in one of the top diplomatic positions, released an 11-page letter, claiming that "corruption had reached the very top of the Church's hierarchy."
He specifically accuses Francis and other Vatican officials of having long been aware of the serious accusations against former U.S. Cardinal Theodore McCarrick, including that he took sexual advantage of young seminarians.
Viganò claimed that Pope Benedict XVI imposed sanctions on McCarrick in 2009 or 2010 over the alleged sex abuse, yet Francis decided to cover for him, and put him in a position of a trusted counselor.
Francis "knew from at least June 23 2013 that McCarrick was a serial predator," Viganò argued in the letter. He adds that even though the pope "knew that he was a corrupt man, he covered for him to the bitter end."
He went on to call for Francis and all those who covered up McCarrick's abuses to resign.
In the response on Sunday, Ouellet disputed Viganò's account that Pope Benedict XVI had sanctioned McCarrick or that Francis had revoked him. He said that at the time, McCarrick had been advised not to speak publicly, but all that was known was yet unproven rumors about his alleged actions.
"After re-examining the archives, I can ascertain that there are no corresponding documents signed by either Pope, neither is there a note of an audience with my predecessor, Cardinal Giovanni-Battista Re, giving Archbishop Emeritus McCarrick an obligatory mandate of silence and to retire to a private life, carrying canonical penalties," he wrote.
"The reason being that at that time, unlike today, there was not sufficient proof of his alleged guilt. Hence, the position of the Congregation was inspired by prudence, and my predecessor's letters, as well as mine, reiterated through the Apostolic Nuncio Pietro Sambi, and then also through you, urging a discreet style of life, of prayer and penance for his own good and that of the Church."
Ouellet recognized "the defects in the selection process" when it comes to McCarrick, who was promoted on several occasions, and even reached the highest function of Archbishop of Washington and Cardinal.
"Without entering here into the details, it needs to be understood that the decisions taken by the Supreme Pontiff are based on information available at a precise moment, which constitute the object of a careful judgement which is not infallible," he positioned.
"It seems unjust to me to conclude that the persons in charge of the prior discernment are corrupt even though, in this concrete case, some suspicions provided by witnesses should have been further examined. The prelate in question knew how to defend himself very skillfully regarding the doubts that were raised about him."
Ouellet accused Viganò of generalizing as to who is responsible for the failings, and of including Francis among the guilty.
"I tell you frankly that I believe it is incredible and unlikely from many points of view to accuse Pope Francis of having covered up after having full knowledge of the facts of this presumed sexual predator, and therefore of being an accomplice in the corruption rampant in the Church, to the point of considering him unfit to continue his reforms as the first Shepherd of the Church," he continued.
"I cannot understand how you could have allowed yourself to be convinced of this monstrous accusation which has no standing. Francis had nothing to do with the promotion of McCarrick to New York, Metuchen, Newark or Washington. He divested him from the dignity of Cardinal when a credible accusation of the abuse of a minor became evident. I have never heard Pope Francis allude to this self-styled advisor during his pontificate regarding nominations in America, though he does not hide the trust that he has in some of the Bishops," he insisted.