Vatican to Investigate Bleeding Holy Wafer
The Catholic Church in South America is looking into the "miraculous bleeding bread" after a video appeared online showing the doughy artifact leaking red liquid. The Bishop of Argentina sent the holy bread to Rome to be investigated by miracle experts.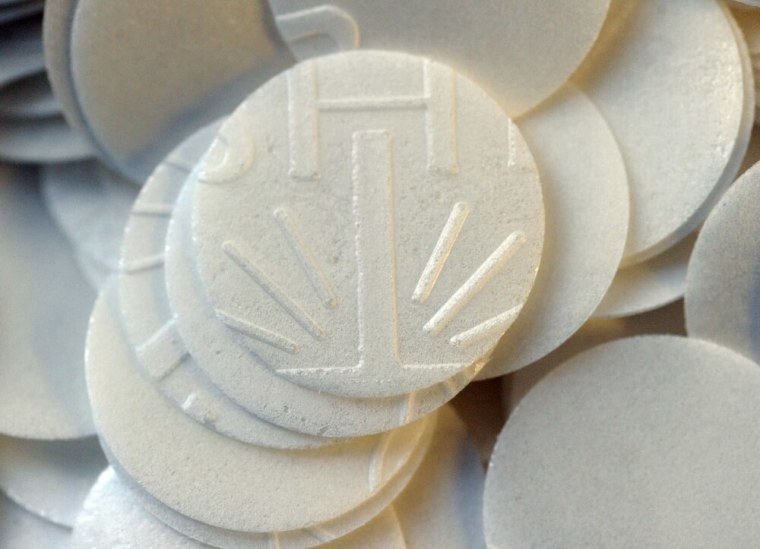 The purported miracle happened in a rehabilitation center for drug addicts in Rafaela city, in the north-central province of Sta. Fe, Argentina. Juan Ternengo, coordinator of San Miguel house, said the residents were praying when the glass covering the bread began to fog up, Daily Mail reported.
They were startled to see the white wafer discharge red liquid. The stunned witnesses cried and watched in awe as the host got stained in red. Bishop Luis Fernandez and Fr. Alcides Suppo arrived later, took the wafer and sent it to the Vatican to be analyzed by specialists to determine if it was indeed a miracle.
The Bishop of Rafaela released a statement informing that throughout its history, the Church has received testimonies of the real and substantial presence of Christ in the Eucharist but such cases were not simple to discern. It sought the parishioners to view the incident with prudence and restraint in order to shed light on what really happened.
"Following the procedure recommended by the Church, the Body of Christ, our bishop has removed the host in question from public exposition, reserving it in an appropriate manner. In this way, the path of necessary discernment is begun so that at the proper time, the right conclusions are reached," the text read
"Whatever the outcome of such an investigation may be, we must use this time to renew our faith and devotion to the greatest miracle, the Real Presence of Jesus Christ in each celebration of the Mass," it concluded.
A similar incident happened at a church in Minneapolis which scientists attributed to a bacterium that produces reddish patches on food.