Victoria Osteen, Kay Warren to Appear in New TV Special by Roma Downey, Mark Burnett
Victoria Osteen, co-pastor of Lakewood Church in Texas, and Kay Warren, co-founder of California's Saddleback Church, will appear in a new TV special produced by Roma Downey and Mark Burnett that will be aired next month as a prelude to a new drama series on women from the Old Testament.
The wife of Pastor Joel Osteen and the wife of Pastor Rick Warren will take part in the special, called "Women of the Bible," which will be narrated by Downey and produced by her LightWorkers Media, a unit of Burnett and Downey's United Artists Media Group banner, Variety reports.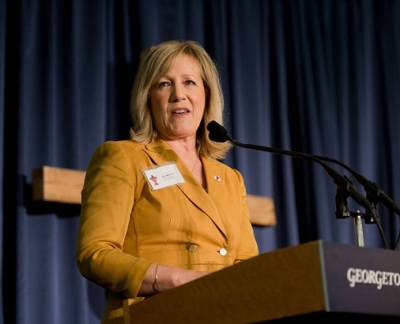 The special will include stories of Eve, Sara, Rehab, Mary Magdalene and Mary as well as interviews of today's women leaders of faith, including co-founders of Going Beyond Ministries Christine Caine and Priscilla Shirer, Eva Rodriguez of the Latino Evangelical Women's Association and Bible teacher Joyce Meyer, in addition to Warren and Osteen.
"Women have obviously played such an important role in biblical history, and Mark and I are excited to shine a light on these individual stories through the eyes of some of today's most incredible women of faith," the Hollywood Reporter quotes Downey as saying.
"Women of the Bible" is a prelude to a mini-series, called "The Red Tent," starring Minnie Driver which will tell the story of Dinah, the daughter of Leah and Jacob.
Downey is also set to host a series for TLC in 2015 on people who have witnessed real-life miracles.
The couple, producers behind the Emmy-nominated "The Bible" series and the film "Son of God," are also raising $25 million to help Christians displaced or affected by the ISIS terror group in Iraq, Syria and neighboring countries before the winter arrives.
"The Cradle of Christianity Fund" will be distributed through an established network of traditional church communities, according to the Institute for Global Engagement, through which the Hollywood couple have launched the initiative.
Downey earlier told The Christian Post that she and her husband are thrilled that so many people have seen "Son of God" and so many lives have been changed. "This has been a journey of love for my husband and I – we poured everything into the show and the movie. And to see them so well-received has been gratifying," she said.
Downey also talked about their production company, Lightworkers Media. "Our intention has always been instead of cursing the darkness, we would rather light a candle and through our work to shine the light of hope and faith. It was out of that that our intention was set to create 'The Bible' series, which of course, was a phenomenal hit at Easter in 2013 and then 'Son of God,' which launched to huge success this spring. And out of that we are now creating a new series for NBC called 'A.D.' which is set to air in the fall of 2015."