Ex Porn Star Vanessa Belmond Confesses Horrors of Seductive Porn Industry; Brings Porn-Loving Men Close to Tears With Story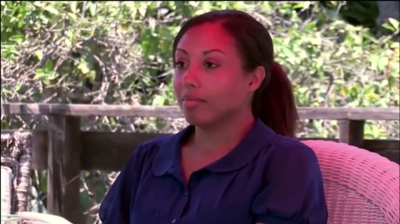 Editor's note: The content below discusses a mature and explicit subject matter which may be difficult for some readers
Ex porn star Vanessa Belmond, 25, who walked away from the porn industry after seven years in March recently gave a glimpse of the industry's dark side to three porn loving British men on a visit to Los Angeles, Calif., and she almost brought them to tears with her story.
Highlighting her life as sex bombshell Alexa Cruz in a YouTube clip from a British TV series called "Date My Porn Star," Belmond told the men, Jonathan, 40, Kevin, 20, and Danny, 23, that the industry took her further than she had intended to go when she started at 18. She is now filled with regret and has been volunteering with an organization campaigning against pornography called antipornography.org.
"Nobody really wants to date a porn star, stripper, escort. As to the whole family thing and having kids, I'm like 'who's gonna have kids with an ex porn star.' And even when I'm 60 I'm still gonna have this porn on the Internet. It's like having a virus or something that never goes away," she told them at the end of her session with them.
"I thought I was gonna do soft-core (porn) and just nude modelling and girl on girl and I was like really set and I was 'I'm just gonna start really slow,' but it didn't work out like that," said the regretful 25-year-old.
She then shared a tempered but still very graphic glimpse of the dirty side of the much glamorized $14 billion porn industry, which has many Christians hooked in its tentacles, according to archstl.org.
Information on this website noted that 47 percent of Christian homes report pornography as a problem, while one 2006 survey showed that 50 percent of all Christian men and 20 percent of all Christian women reported being addicted to porn.
"My first scene actually I got Chlamydia. I was like 'oh my gosh, this is so gross.' As far as STDs I had Chlamydia probably three, four times or more," Belmond said as the three men listened in disbelief.
"I had gonorrhea. I had bacterial infections a lot and the testing I thought was keeping me safe because they make it sound like everyone is tested. The thing is you only test once a month and all through that month they still have a 'clean' test but they might have gotten something," she said.
She then highlighted having to do painful and soul-numbing things she termed 'unnatural' such as anal sex and sex with multiple men.
"My first anal scene I had to take painkillers because it was still so painful. I had a lot of vaginal tears, anal tears," she said. "When you're on a really strong pain killer it's a lot easier to take something like anal and smile and act like you're having a great time."
Having sex with multiple men at once she explained was particularly difficult for her.
"I actually started bleeding during one of them (orgies)," she said. "Mentally it's pretty hard 'cause it's like you are doing something so unnatural. You are letting four, five, six, seven, eight men have sex with you. That's not a natural thing.
In the end, the men who listened to her said they were shocked and saddened by Belmond's story.
"I feel really, really sorry for her. She can't go back and change it," said Kevin after Belmond ended.
"It has touched me it has made me feel a lot of empathy for the girl," said Danny. "It's just strange. I can't really describe it's just thankful that she told us that and opened up," he added.
"I just feel like I wanna cry. She really touched me deep," said Jonathan. "It's something that I feel guarded towards. I feel protection to the porn industry because it's part of my life and something I've grown up with. It really took the wind outta me sails," he said.