Hilarious Wardrobe Malfunction Caught on TV — Check It Out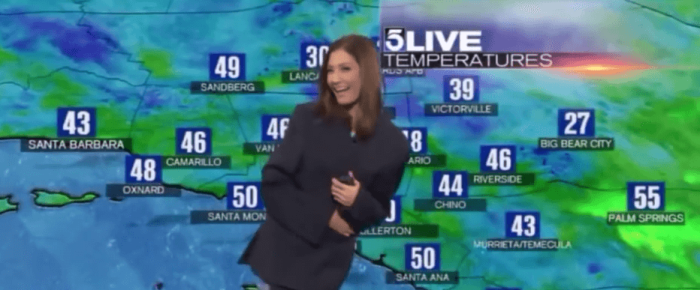 Sometimes people are described as being consume by their work. However for one meteorologist that idiom might have gotten a little too literal.
Liberté Chan of KTLA 5 thought that her dress was light enough that the green screen used to project the weather map would not mistake it for the background.
But boy was she wrong! Hilarity ensues as all of a sudden her body becomes part of the forecast, leading to a coworker putting his jacket over her like a gentleman should.
The production team seemed to be good sports about the mishap, eventually piping in some music that to them at least seemed appropriate.
On YouTube, the video has been uploaded multiple times with at least one posting exceeding 1.3 million views in one week.
Want to see just how camouflaging the weather can get in Southern California? Then check this cute little blooper on local news.