Was James MacDonald's Podcast Shadow Banned Over Prayer Request for Trump?
Was James MacDonald's Podcast Shadow Banned Over Prayer Request for Trump?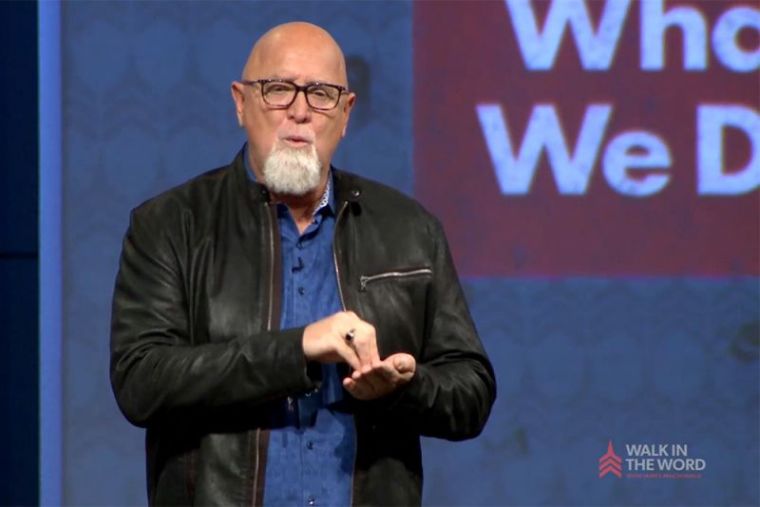 Apple iTunes is being accused by some of having "shadow banned" the podcast of Illinois Pastor James MacDonald after he called on listeners to pray for President Donald Trump.
A "shadow ban" involves blocking a website account in a way where the account's content is not readily available to others on a website. The user is unaware that their content is blocked.
CBN reported that although MacDonald's popular "Walk in the Word" podcast remains available for listening on iTunes, his podcast inexplicably plummeted down the podcast charts after the pastor posted a message last month calling on listeners to pray for Trump.
"Over the course of analyzing this strange change, someone brought to our attention that the change correlated almost exactly with a Facebook post made by Pastor James calling for Christians to pray for the President as he selected his nominee to replace Justice Kennedy," Dan Sumpter, the global creative director for Harvest Church, explained to CBN.

Sumpter himself did not accuse Apple of wrongdoing, explaining that they were "giving Apple the benefit of the doubt."
"They have been a wonderful partner for many years as our ministry has grown to become one of the largest in the world, but we are running out of plausible, alternative explanations," Sumpter added. 
"We've gone through a series of tests and much analysis. It seems more likely that there's something going on here that only Apple can answer."
The Christian Post reached out to Apple on Thursday for a response. However, the tech company did not return comment by press time.
In recent years, various social media outlets have been accused of bias against conservatives, with critics pointing to incidents of censorship against right-leaning accounts and individuals.
Last month, Twitter garnered attention from entities including Vice News for allegedly shadow banning conservative and Republican accounts.
Vijaya Gadde, legal, policy and trust & safety lead at Twitter, and Kayvon Beykpour, product lead, released a statement, denying an ideologically-driven shadow ban.
"We do not shadow ban. You are always able to see the tweets from accounts you follow (although you may have to do more work to find them, like go directly to their profile). And we certainly don't shadow ban based on political viewpoints or ideology," stated Gadde and Beykpour.
The Twitter officials then explained that they "rank tweets and search results" in order to make the site "immediately relevant." They also seek to "address bad-faith actors who intend to manipulate or detract from healthy conversation."
"... we identified an issue where some accounts weren't auto-suggested in search even when people were searching for their specific name. To be clear, this only impacted our search auto-suggestions," they stated, adding that the "issue was resolved."