Was Relay Team Disqualified From State Championships for 'Religious Gesture?'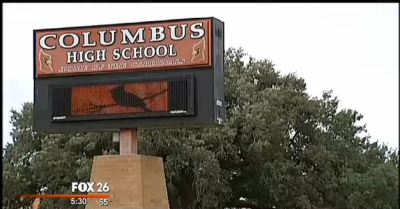 Members of a boys 4 X 100 meter relay high school track team in Texas were left in tears last weekend after the University Interscholastic League of Texas disqualified them from competing in the state championships because the team's anchor runner made a "religious gesture" as he crossed the finish line to win their regional title.
The runner, Derrick Hayes reportedly lifted a finger to the sky in celebration, as he wrapped up the win for Columbus High School. According to his father, K.C. Hayes, he was simply pointing to God. But UIL officials disagreed and slapped the team with an "unsporting conduct" charge, disqualifying them from participating in the state championships.
"It's a sad deal. I think it's a travesty. Those kids work hard," K.C. Hayes told My FOX Houston.
"As a team they reached their goal and in an instant it was just gone, over something we think is a non-issue. I guess someone else thinks it is an issue. He just said dad I was pointing at the heavens," said Hayes of his son's response to the incident.
On Thursday, the UIL defended  the decision of its officials while noting that the matter was still being investigated.
"At the Region IV Conference 3A Track & Field regional meet held on Saturday, April 27 at Texas A&M Kingsville, a relay team from Columbus High School was disqualified by local meet officials for an unsporting act at the conclusion of the boys 4 x100 meter relay," UIL said in its statement.
"The meet official indicated the athlete crossed the finish line and gestured upward with his arm and finger and behaved disrespectfully toward meet officials, in their opinion."
It continued, "In the judgment of the official, this was a violation of NFHS track & field rule 4-6-1. The regional meet referee concurred with this decision and the student was subsequently disqualified. There is no indication that the decision was made because of any religious expression. This was a judgment call, as are many decisions of meet officials in all activities." The organization further pointed out that it had no rules prohibiting religious expression.
K.C. Hayes, maintained to My FOX Houston that his son meant no ill-will to other competitors in the race and was only giving thanks to the source of his strength.
"It's not a malicious act. It's not a taunting act. It's a 'we did it' and he (my son) knows where the source comes from. I know him. He's not a malicious kid. On the football field he'll hit you and then help you up," said Hayes.
"It's a harsh consequence for what some people may deem a small gesture," said Columbus I.S.D. Superintendent Robert O'Connor. "The rule states no celebratory gestures including raising your arms," he concluded.
Calling the incident "heartbreaking," O'Connor said since the event he has received several nasty e-mails including one that reads, "Dear sir, you, are an idiot."