Westboro Baptist Church Pickets Joel Osteen's Lakewood Church; Blasts Houston's Lesbian Mayor Annise Parker
Westboro Baptist Church Pickets Joel Osteen's Lakewood Church; Blasts Houston's Lesbian Mayor Annise Parker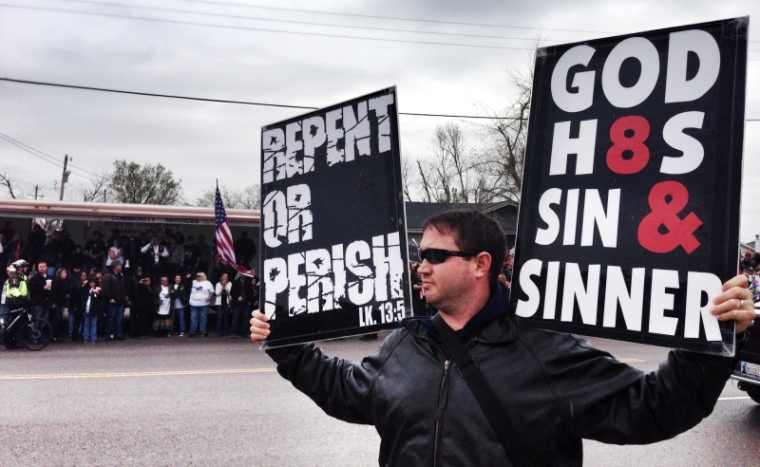 The infamous Westboro Baptist Church made its way to Joel Osteen's home base in Houston, Texas, Sunday to blast the city's lesbian Mayor Annise Parker and protest against the famous pastor.
Members of the Topeka, Kansas-based Westboro Baptist Church, which isn't affiliated with any Baptist denomination, gathered outside the church as people entered for Sunday worship services.
The group held signs aimed at Parker's support for the city's Equal Rights Ordinance, which opponents believe will have several unintended consequences, such as allowing men who identify as female to use women's bathrooms.
WBC staged its protest at several churches in the Houston area and also attacked the ministry of Joel Osteen. In order to shield its members from the hate speech, Lakewood Church played music on its loudspeakers while ushering attendees into the building.
A pastor from Christ Fellowship in North Carolina who protested alongside WBC in Houston over the weekend, told KHOU News that he was specifically protesting against Parker and HERO because "it's a disgusting law that they (the city council) passed, that's only pushed by homosexuals."
Houston residents' opposition to HERO resulted in a petition seeking to put HERO on the November ballot. The conservative Texas Values Action organization turned in an estimated 50,000 signatures to repeal HERO, well above the 17,269 required by law. City Attorney David Feldman, however, claimed that many of the signatures were invalid, and thus Texas Values did not obtain the necessary number of valid signatures for a referendum.
Subsequently, a small group of conservatives sued in response to the Feldman decision, leading to a court case wherein arguments will be heard in January. In response, it was revealed last month that city attorneys had subpoenaed five local pastors who had been critical of HERO but were not involved in the lawsuit against the city.
Following a national backlash against the subpoenas for pastors' sermons, Parker held a press conference on Oct 29 to announce that she was withdrawing the subpoenas against the five pastors who've spoken out against HERO, but added that she would continue to support the ordinance.
While The Christian Post contacted Lakewood Church for comment, CP didn't receive a response from church staff at the time of this publication. Church attendees, however, spoke to KHOU about the presence of WBC members protesting against their beloved pastor on Sunday.
"The fact that we have guys like this (WBC) fighting, preaching against each other, that doesn't make any sense, Lakewood attendee Christopher Clark told KHOU. "I'd rather go to Osteen's church where he makes us feel good about ourselves then go to this other guy's church where you her him yelling and calling Osteen a whore. What kind of church is that?"
Other churchgoers also blasted back at the WBC protests. "There's love for everybody, regardless of who they are, what they come from, what they do, there's love for them. It's not our place to judge," said churchgoer Devon Mendoza.