Western Wildfires Spreads - Seven U.S. States Affected,[MAP] – Casualties, Evacuations, Wildfire Safety Tips
California, Idaho, Oregon, Montana, Nevada, Washington and Wyoming being hit by wildfires. Evacuations are still in effect in numerous communities while firefighters continue to control wildfires across the Western U.S.
Western Wildfires Spreads - Seven U.S. States Affected,[MAP] – Casualties, Evacuations, Wildfire Safety Tips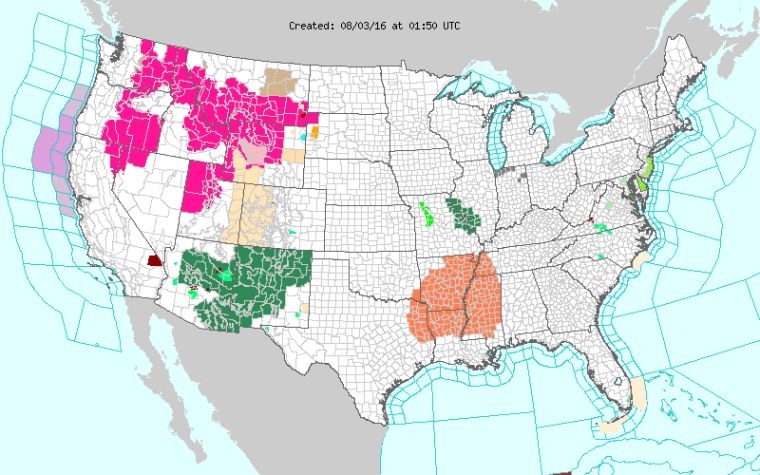 From the scenic Big Sur region to the small towns of Reno, seven Western states are now affected by terrible wildfires. Evacuation orders have been given to communities in Nevada, Montana, Wyoming and Oregon while fire fighting crews are struggling to control a blaze in Washington headed for a security area at the Hanford Nuclear Reservation.
Here is a complete list of all fires in all seven states
California (Soberanes Fire, Prather Fire and Sand Fire)
The Soberanes Fire in Big Sur is the result of high humidity and low temperatures in Central California. The area, known for its scenic beauty is now scorched with more than 63 square miles of brush, roads and properties destroyed. Fire fighters are battling terrible conditions as they tried to control the blaze which is still just 18 percent contained. Reports say that more than 2,000 structures have been destroyed included are 57 homes and 11 outbuildings. A bulldozer operator died in an accident while trying to control the fire.
A fire near Prather has damaged homes and properties and has displaced more than 400 residents. Homes outside the Sierra National Forest have been evacuated according to the California Department of Forestry and Fire Protection. The fire has only started Saturday and has grown 3 square miles. Fire fighters say that the blaze is just 15 percent contained.
The Sand Fire in Santa Clarita is now nearly contained. 20,000 people were evacuated, thousands of homes and properties were affected and a man was found dead because he refused to evacuate from his home.
Idaho
A small timber fire in southwest Idaho became a huge blaze and damaged 60-square miles of property Monday. High temperatures and low humidity fuelled the blaze and closed a section of State Highway 21 located in between Idaho City and Lowman. Aircraft used to control the fire were grounded because of flying drones in the area.
Montana
A fast-moving fire in the Bitterroot National Forest started Sunday and in just a few hours it has burned homes, evacuated about 500 residents and has charred nearly 5.5 square miles by Monday. Tod McKay spokesman from the Bitterroot National Forest said that he has never seen anything like this fire in years. There are still no exact number of homes and properties that have been destroyed by the wildfire.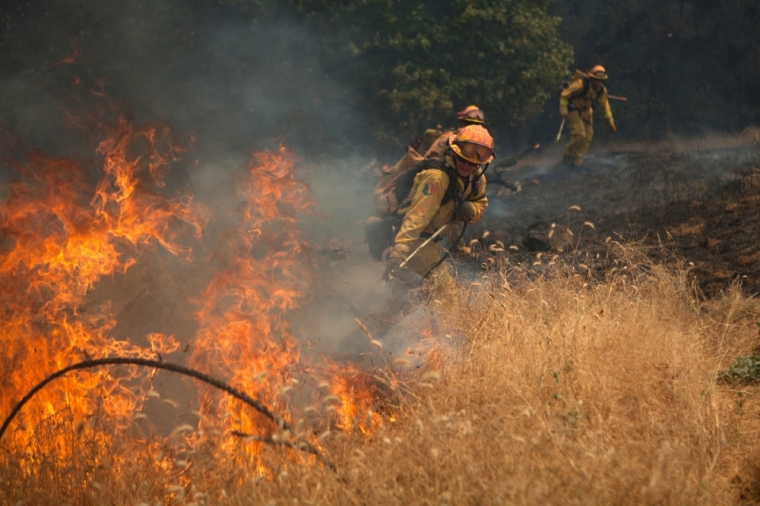 Nevada
Series of fires from the tribal towns and communities north of Reno along Pyramid Lake broke out and has damaged around 78 square miles Monday. More than 30 homes located in Cottonwood creek and Fish Springs Ranch was given 30- minutes notice to evacuate. Around 600 people were told to evacuate from Sutcliffe and more from nearby beach areas. Around six homes, mobile homes, outbuildings and vehicles were destroyed.
Oregon
About 20 structures were threatened and many residents were told to evacuate because of a wildfire that started east of Pendleton. The Oregon Department of Forestry said that the fire started weekend and burned more than 500 acres of grass and wood found near Interstate 84. It was reported to be 25 percent contained by Sunday.
Washington
A fire blazed quickly and threatened the Hanford Nuclear Reservation as it moved from Grant and Yakima counties to Benton County. This is the largest in Eastern Washington which started Saturday. A section of Highway 24 along Hanford Reach was closed while campgrounds found along the Naches River in central Washington and homes in the area were also evacuated.
Wyoming
A 2-square mile blaze has destroyed eight homes and has led to the evacuation of 140 more homes in southern Uinta County. This fire was 25 percent contained. Another wildfire in northwest of Dubois is now 25 percent contained and residents from seasonal homes were finally allowed to return. Still another fire in Bridger-Teton National Forest has burned more than 45 square miles is now 81 percent controlled.
Safety warnings
Wildfires can erupt anytime and it's best to be prepared. The National Fire Protection Association, says the ability of a person to get out of danger will depend on preparing ahead of time and listening to warnings issued by the authorities. These are some of the safety tips for wildfires and fire safety from Ready.gov  .
If a wildfire has been spotted but still no evacuation orders were given, call 911.
If orders were given, do it immediately and inform one's destination and arrival.
Search for text or email alert systems in one's area.
For burn emergencies, call 911 or seek help at once. Cool and cover wounds to prevent infection and further injuries.